2016 foal Gallery
We are expecting 8 foals this year! 5 quarter horses and 3 paints!!! ALL OUR FOALS HAVE SOLD FOR 2016!! PLEASE check out our available horse page, and also 2017 foals will start mid to late feb~!!! 4 are sale pending already! 4 reserved for the farm, looks like there will be 5 available!!
Pictured below will be the foals as they are born. We will have easy payout reduced price before weaning and deposit will hold. No board charges, and foal will be handled, fed, dewormed and will be friendly as well as started leading, and tie training. The foals are gentle due to frequent interaction and will have coggins and health cert. for travel. All other exams are welcome at buyers expense. To see more pictures of the foals go to my facebook page Shelly Pifer we have tons of photos, all our foals have sold! Watch out early next spring, first come first serve, payout plans and affordable before foaling if you like a mare crossed on our stallion best deal in uetero or after foaling.. Email or call as well as text pifersd@aol.com, or 479-427-0318 , facebook is shelly pifer also.
WE will update photos as much as possible. All foals will be registered.
click on the foal picture to see the dam.
thanks for looking!!!
stallions pictured below.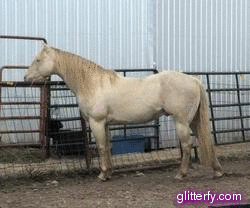 farm : Jessys Hollywood Doc
~~~~~~~~~~~~~~~~~~~~~~~~~~~~~~~~~~~~~~~~~~~~~~
Reference stallions-Tiger Stripe Peppy .............. Chiefs Riskey Magic
sale pending status is just that, until paid off in full said foal could come back up for sale if payments are not finished. WE will relist and notify potential new buyers on our facebook page of relisting after all means have been exhausted to work with the original first buyer. We strive to help buyers if they run into a problem we are understanding, up to a reasonable time. It is our goal to make every buyer happy and fulfill their dreams. But please take into account that said foal is being cared for daily morning and night regardless of payments and will go to the person who pays in full. That we dont work for free either, as we strive to provide a healthy, tame, well bred foal with all the potential in the world. This gives each foal a head start on training later, and will make all the difference on trainability that goes along with the breeding and potential of each individual. Color is just icing on the cake, we strive above all for quality, temperment and correct conformation.
Coggins and health cert will be provided regardless for travel with papers.
---
SMART HAIDA DUN IT (pending)
(Jessy and Shawnee)
pedigree AQHA
foaled 03/13/16
beautiful buckskin filly!!
sale pending!
going to a show home in Arkansas!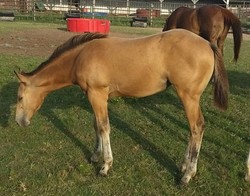 ---
CSS qt crystal rose
(Jessy and Rosette)
pedigree APHA
foaled 03/12/16
buckskin tobiano filly
SOLD! She is going to a great home in Texas!!
So excited to follow this filly out of my farm bred mare Rosette.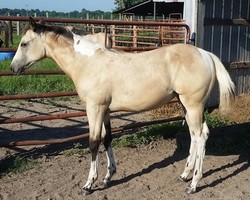 ---
Hollywood sinsation(pending)
Jessy and Possum
foaled 3/22/16
buckskin AQHA filly
this filly has tested for dun, she is a dunskin guaranteed.
very loudly marked striped legs look great!!
SALE PENDING!!
TO A SHOW HOME IN IOWA!!! WOOP WOOP!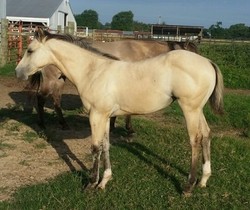 ---
CSS Hollywood Flynn aka Errol
(Jessy and MIssy )
pedigree AQHA
foaled 04/22/16
buckskin and roan combination
Cute and stout colt will be amazing,
He has sale pending to a show home day old! Very happy going to a great lady!.A
SOLD! TO A SHOW HOME IN VIRGINA!!!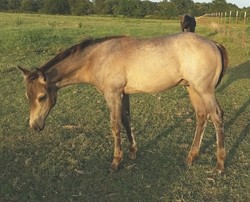 ---
name pending
(Tiger and Ty)
pedigree AQHA
BEAUTIFUL buckskin filly
not for sale at this time.
Tested homozygous for black. 5 panel neg. Tested negative for dun.
This is my keeper!!! we call her Gia.
not for sale at this time!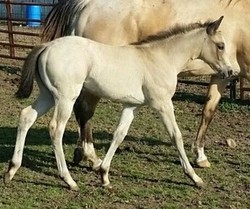 ---
H
ollywood Lil HIckory
(Jessy and Miss kitty)
pedigree AQHA
foaled 4/20
dunskin filly LOUDLY MARKED!
Long awaited and highly prized foal, perfect in everyway!
I am beyond happy !
she has sale pending to a show home Ok!!!!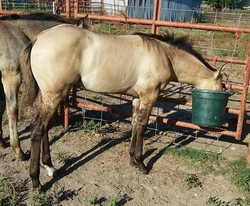 ---
Css Color me Classy aka Cricket
(Jessy and Annie)
pedigree APHA
BUCKSKIN filly
really nice athletic filly, she is going to be shown, and she is built to do it all!!
will be shown in performance! moving to Arkansas!!
SALE PENDING!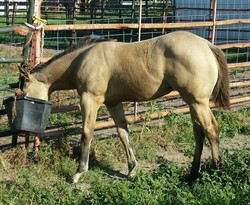 ---
(Magic and Diamond)
APHA colt
double dilute tobiano
due June 5th --
deceased born premature delivery. We are totally devastated, the colt was unable to survive early delivery. This was a hard blow to our farm. Rest in peace little boy!