2022 breeding plan
2022 breeding plan
On this page is our farm breedings and we are expecting some amazing foals again!! For those looking for our programs breeding plans: "color, quality pedigree", not to forget conformation and trainablity...this is all built in the total package with proven bloodlines and neg. disease panel by parentage testing. For showing, competing, ranch classes, working cowhorse, cutting , sorting, boxing, all the working classes then stop here!! We post them as they are born on the 2023 foal page, and they sale, so dont miss out. Or if you prefer go to or facebook page Shelly Pifer also for private messages and see the foals as they are born starting first of march also posted on there . We will only be having 6 foals in 2023. Please contact me for private conversation, 479-427-0318. Pifersd@aol.com Thank you for looking!
see the charts below.
See the listing below in order of the pictures of the pedigree links for each foal.
---
---
Smokey X Rosette pedigree
---
Smokey X Rose pedigree
---
Smokey X Nova pedigree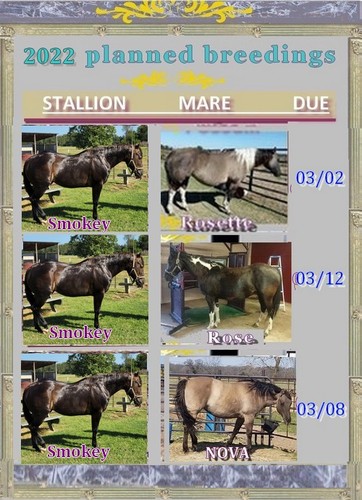 See the breeding below in order of the pictures, for pedigree links of the foals.
---
Lucky X Candy pedigree
---
Smokey X Miss Kittypedigree
---
Smoke X Tivio pedigree