About me
Horse training and life experience
First let me say thank you for all the people who have believed in me and have taken a chance on buying or training. We are not fancy and we dont proclaim to do magic or wonders! WE dont go on TV and sale gimmicks to so call change how your horse behaves with a flick of wand. WE are small and we do hands on ourselves. We dont delagate and pass the buck. WE do and have provided a much needed service on a Local Level for much needed training on many types of horses. WE do not break horses here. We train them. Training takes time, consistency and repetition. Timing is everything and reading horses is a must.
Horses and I - epilogue
My origins are from the city but somehow I managed to show up at every barn in town, the endless pestering kid that would do anything to hold a horse, feed one, brush one, help in anyway possible! Push wheelbarrel, shovel poop. What ever. I was a sponge on legs. I been to the school of learn as you go! And literally from the ground up!
I always dreamed of owning my own horse someday. My first riding experiences, the neighbors horses they were Saddlebred and Tennessee walker, Zack and Frosty. WE used to ride them all over, and rack them up and down the highway along the railroad tracks. And then load them in the trailer and take them to the car wash! WE rode like indians, hanging on to the side, swinging on from the ground, jumping, and hook them to a homemade sled with a rope to pull us in the snow. They put up with a lot but were well loved and cared for.
No matter where I lived, I managed to find a horse farm somewhere and would then become part of the landscape and the pesty kid, teenager then soon a young adult. Too many farms and experiences to name them all.
At the age of at the age of 23, I started working for a show barn in another town. They did mostly english, had several breeds. Appaloosas and arabians. Same story from the ground up! Did stall cleaning and exercised horses daily by way of lunging them to start. I participated in on hands training starting of hitching and driving to a cart and starting horses to ride to prepare later for further training to show. How to train and ride english, saddle seat, country pleasure and Park classes. This was in Mesquite TX.
During this time, I also participated in the start up of the pony wagon rides at Lion Country Safari, in Irving TX. We trained, and hitched many ponies to drive and pulled the bightly colorful safari buses that gave rides to the customers coming and going from the park to the cars in the extensive parking lot. Once they were trained I moved on, everything running smoothly.
I then changed barns and started working for a Top Internationally known farm that bred and trained Arabians for showing in Halter, English and Western pleasure classes. This was on a National level of competion in the US., farm was located in Arlington TX.
I worked in all of the divisions. Started in the breeding, stallion collection, AI, Teasing, mare management, to foal care, clipping, training foals, handling them daily etc. AT one time there was a transition from a breeding manager to another. I was in charge of all operations in this area until a new permanent replacement was found. This was in the 80's and this farm owned and purchased 2 of 3 mares at the price of million dollar each, that ever existed in the world in this breed. The stud fee was $7500.00 for the stallion. Participated and preparation in the yearly open house that catered to International and National visitors and presentation of the horses at that time in hand and under saddle.
I also then later worked in the training department and was given many assignments of that I did to include, stallion management, handling and training all ages of horses stallions, mares and young stock. Conditioning and preparation to show. I did also travel with the farm and handle all aspects of preparing horses for showing on a regional up to a national level. Up close and personal, hands on living the dream and there 24 hours a day breathing the air around the clock. This gave me access to many international and national trainers and met many and observed many training and learned alot and applied a lot from this. Attended many training seminars in many types of training from english to western and halter. I was also given horses to start them riding. Then the trainer would take them and finish them and show them. moving on....
It was during this time I got my first horse.............purebred arab, colt and then gelding.
I started driving horses in Dallas, learned all about hitching, draft singles, doubles and teams. Teams of light breeds were used also, up to 4 at a time. Also learned about team driving and dressage called Combined Driving. I was able to participate in some of this for fun and learning as well as hone driving skills. moving on....
Soon I became interested in many other things. And I also started training on the side my own first then a few clients here and there. Aquired my own private farm leased, training arena and facility. I also handled and trained an older imported german Arabian stallion under saddle western pleasure and got him ready for halter which I then showed at regional level against an National trainer, side by side. AS well as rode my own trained by myself, National Show horse undersaddle for Country Pleasure regional classes and took a purebred colt that I bred and trained in hand for halter regional level and my gelding under Western Pleasure. WE went to many shows in Dallas and in Fort Worth. moving on....
AFter this, I started taking dressage lessons, and this was the beginning of learning the techniques and applied tools of the trade(how, why, where and whens). Combining what I felt and did already and explaining to me why I did things and succeeded under saddle and how it worked on horses. This was a very critical phase of my learning and really brought together everything I had done so far, and put it in cement for me. I loved working with horses, seeing the result and feeling the pride of knowing how the horse turned out as well as happy owner. Back then I always said that dressage was the slow version of reining before it was ever said later! WE went to watch the futurities in cutting every year in FT worth and also National Appaloosa show that was held there also. Reining and cutting always our favorites.
The story is not over, soon I started taking jumping lessons at a big farm in North Dallas, where I was started and then progressed to more lessons from an Olympic rider from Germany. I did show some locally. Yet we used to rent cows and practice cutting on the weekends for fun! Then practice training the Appaloosa stallion in the new at that time, progressive class of Halter English type!
Next my life had gone thru some dramatic changes.
Exit stage left! Moved from Texas to NW AR.
Opened up a trail ride business, and gave lessons to families, teens, kids and also did Girl Scout badge training for girl scouts and pony parties for kids birthdays. Some of the clients we had were International! WE had a family from Africa and that was fun, since they did not speak much english! and then we had a couple from India! Too many to name them all. What great fun. Trained many horses all breeds and rehabed many horses, off the track TBs for pleasure riding. Started many horses for client in pleasure riding(all western now). Managed a small private farm close by to our faclility, arranged all the shipping and timing of breeding to Kentucky and handled all the training from the ground up and raised them up and started them for the track(using my trusty old english saddle). AS well as retrained them for pleasure when the came back(western) or jumping. One year due my plate overflowing, I did hire outside help on 2 geldings for rehab. But up to this point had never hired any help, did it all myself and my husband of course assisted me as back up right hand man!!
Also during this time I fullfilled a dream of mine, to ride and train a draft! That was great fun! A percheron Big Jake!!! Sold him to lady who did jousting on him.
big change coming again!!!!!
farm moves to Oklahoma our current location, better land, and home.. WE discontinued the farm trailrides, girlscouts, TBs and lessons. We went private.
WE built our new farm from the ground up from nothing to what it is now, and that I give credit to my hard working and ever devoted husband. WE are not fancy but feel we have a solid place and built from a master plan to be a turnstile operation. It did take us 8 years and we are not done yet.
WE have trained most all our own horses, with no help until the last 4 years, due to my age and work load. I have had to share work training of our horses by assigning and overseeing the starting part to local persons after I did the the ground work. Then I would take on the finishing. I have started and trained many horses including my own and customers personally hands on participation. I cannot even begin to count them. I do all around solid basic riding training. I do not claim to do any roping, reining or cutting. I have hired help during this phase from some local horse riders who are experienced in this area to start a horse on this by way of exposure and travel to the cattle of which there are many available to us locally. WE have managed to satisfy every owner who has brought a horse to us. WE know it takes all kinds and not all trainers compete on a National level and have high end barns and horses, or a lucrative lifestyle. WE dont claim to to have any of this. All we claim is hard work, experience, and knowledge as well as good work ethics and devotion to the horses first and clients next. WE know not all horses are national caliber but we know all horses deserve a chance. For this we do and hopes that the ones who can and will move on to a finished trainer who can take them further will be able to do so with little or no trouble with a solid foundation.
I am right now looking for someone who is good with horses and some experience on training and basic safe work methods to work on commission basis here at the farm. WE do have occasional horses to train and outside horses, and have the facility to do so. I would be working with this person, and will oversee this operation. WE operate on elbow grease, honesty, grit and determination. Not on some glossy magazine picture and false promises. We would like to develope a long term relation into a part managment position, of the farm and training of the horses.
Thank you for taking the time to read my 40 year epilogue involved in horses. Just highlights not all inclusive.
Shelly Pifer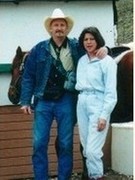 Short synopsis
WE dont claim to be fancy, but claim 40 years of experience. This is not textbook but hands on book of life. I am very particular on how the horses are kept, trained and the outcome is very important to us. AT this time, I dont have any assistant to work with, as hard serious help is hard to find. During these times of lost art of training horse, will soon be gone by the way side. But Hey!! I had a great time and many memories. I would not trade it for anything.
At this time we are only training our own farm horses due to we need an onsite person to assist and take on outside client horses and some farm as well.. If interested and you are serious please contact me. Money is based on commision. The harder you work on training and turn around, the more you make. It is not magic.
My Contact Information