Cougars Mighty Titan
Cougars Mighty Titan
WE want to welcome to our farm a young and up and coming colt to play out his future by way of training and handling before breeding. WE may last of this breeding season try him for a test breeding on a mare if he seems to be ready for it. He has some big shoes to fill, as he is taking Jessys place in the future if he does work out. He is a total outcross but also he suits the farm breeding criteria of quality, temperment, correct conformation, balanced and trainability, lastly his color a rare combination.
Cougars Mighty Titan ( 2014 aqha)
(Cougarand San Bar X Pocos Doc N Tari)
Sold TO NC where he will be trained in roping!!! so happy to see how he does later.
we have several foals by him in 2019
champagne, palomino, roan
Gold Cream Roan
tested ee, AA, Chch ,Crcr, Rnrn
Parents NN for 5 panel genetic disorders
His family is performance bred, going back to good foundation lines!! These are the lines that built the industry. Peppy San Badger, Peppy San, Gay Bar King, Continental king, Colonel Freckles.
double registered International champagne Association.
He is 5 panel tested Negative thru aqha!!!! He will be listed for APHA BY 2018. DNA VERIFIED
He is still growing. We expect him to mature to 14.2 or 14.3 approx. His sire and dam are pictured below at the bottom of the page!
Titan is in riding training summer to fall and we will expect to use him in 2018 for foals. A limited number of outside breedings will be allowed. If interested call or email.
we HAVE 4 mare bred to him to him for 2019!!! WE are expecting some amazing foals to come by him!!!!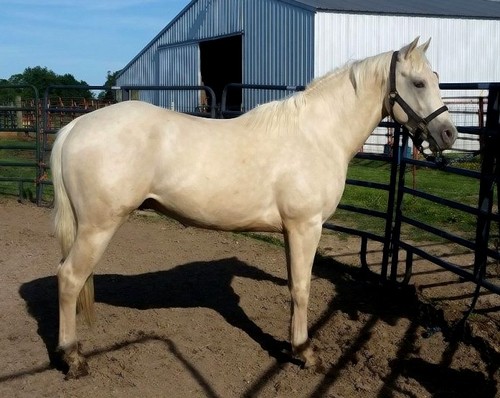 More pictures coming soon!
he will produce cream dilute 50% mostly combined with chance for roan champagne combination. Ad the dun gene if the mare is dun. WE are pretty excited since most of all our mares are black based, and we have double dilutes and single dilutes, to be used with him. The options are so many on the outcome of each foal. Below is a list of combinations if bred to a black based mare out of all the crosses if the black mare is carrier for red unknown bay carrier. The odds for color of some combinations listed below. Totals: 88% chance for color single or combined or 12% sorrel or bay. If your mare is a dilute of any kind( roan, dun, cream, champagne) the odds change favorably for a color of the foal in higher percentages to 95% color combinations, included as much as all combined to double dilute combinations. This is an amazing colt, very gentle and come from some amazing line of horses.
| | |
| --- | --- |
| | Bay |
| | Amber Champagne roan |
| | buckskin roan |
| | Bay roan |
| | Amber Cream Champagne |
| | Amber Champagne |
| | Buckskin |
| | Amber Cream Champagne roan |
| | Gold Champagne |
| | Palomino |
| | Gold Cream Champagne roan |
| | Red (Chestnut/Sorrel) |
| | Gold Champagne roan |