Paint Horse Legends
Paint Horse Legends
WE have based our breed program on some of these paint horses, and are very proud to show their heritage. Even though it may be considered by some foundation or older breeding, those bloodlines are still currently being used today in National Competition and carry on today is modern breeding and performance for serious competitors. They are not a fad or trend but foundation to many winning horses of today.
---
Ris Key Business, two time APHA Champion and World Champion producing sire goes back to the foundation American Quarter Horse Leo. He not only was successful as a performance horse but has passed his talent and traits on to his successful offspring. He was also versatile and earned open ROMs in reining, working cow horse and western riding.
Open World Champion-Working Cow Horse, Open Superior Reining, 2x Reserve National Champion Reining, Open ROMs Reining. Working Cow Horse & Wesern riding. AM World Champion-Reining, AM ROM Reining.
Total AMT Pts H-0/P-28. Honor Roll.
Sire of 238; 169 painted, 69 solid, 16 shown.
6 x World & National Champion
3 X Honor Roll Champion
#4 Lifetime Leading Reining Stallion
Sire of: the Highest Open Performance Point earner of all time in APHA history.


---
Leo San Cita, a relatively 'young' foundation paint born in1985 shows the true versatility of a foundation sire earning , He is also a 'tovero' meaning that he can produce overos, tobianos and tovero offspring, adding to his value as color sire. Both Risk Key Business and Leo San Cita go back to Leo San Siemon who seems to be a factor in the successful genetic brew of the 'foundation' paint horses.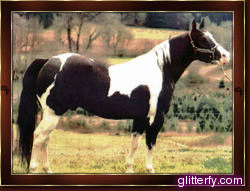 17 Times Grand Champion
Superiors In: Halter, Working Cowhorse, Steer Stopping, Reining & Heading
ROMs In: Working Cowhorse, Heeling, Heading, Steer Stopping & Reining
1995 Champion Honor Roll Working Cowhorse
1995 Congress Reserve Champion Working Cowhorse
1995 Reserve Champion Senior Reining
1996 Congress Champion Heading
1996 Reserve Champion Heeling
1997 Congress Reserve Champion Steer Stopping

---
Q Ton Eagle
[Glitterfy.com - *Glitter Photos*]
Q Ton Eagle


P0000345; Stallion; 1960-1975; Sorrel; Tobinao
Freno x Q Ton Dixie Alpha

Show Record


Q Ton Eagle excelled in pleasure and performance events, however, because the APHA did not record performance awards until 1966 most of his accomplishments are unrecorded.

APHA Champion

6 time Grand Champion (he does have the distinction of never being unplaced in halter classes)

1964 National Champ Aged Halter Stallion

1966 National Champion Aged Halter Stallion & Sr. Reining

ROM in Reining

1968 & 69 National Champion Get of Sire

141 foals, 9 APHA Champions and one Supreme Champion

Leading Sire Of Halter Point Earners 1966-1974

Breeder: Quention Foster, Broken Arrow, OK.
Owner: J. D. Hooter, Alexandria, LA.

---

---
---
---
Cherokee Maiden
Cherokee Maiden
P00000023; Mare; 1960-1988; Bay; Tobiano
(Osage Dan x Maggie )
Showrecord National Champion at Halter APHA 39 Halter Points Reserve National Champion Sire Superior Sire Dam of: 5, 4 painted, 1 solid, 2 shown Breeder: H. W. Harbour, Ringling, OK. Owner: Rebecca Tyler, Gainesville, TX.
---
---
Yellow Mount
Yellow Mount
P0003300; Stallion; 1964-1989; Red Dun; Overo
(Tetrak Scooter x Lady Yellow Jacket)
Show Record
Breeder: Bill Hitson, Santa Rosa, N.M.
Owner: Mr. & Mrs. Stanley Williamson (2J Horse Farm), Iowa Park, TX.
H-65, P-48 (21-Grands/7 Res.)
APHA Champion 10-14-66, APHA Supreme Champion 8-15-70
21 time Grand Champion
7 time Reserve Champion, National Champion Halter and Tie Down Roping
Reserve National Champion Wester Pleasure
ROMs in Barrel Racing, Reining, Western Pleasure, Tie down roping, Cow Pony Race
Superior Halter
---
---
Delta
P00002120; Mare; 1963-1994; Bay Roan; Tobiano
(Lemon Squeezer x Mildred)
Show Record
Open Supr & ROM Cutting
NCHA LTE $49,345
NCHA Hall of Fame
Bronze, Silver & Gold Award
NCHA World Champion and Reserve World Champion
#2 APHA LT Leading Cutting Point Earner
---
---
Adios Amigos
Adios Amigos
P00001525; Stallion; 1963; Brown; Overo
(Rangers Bleu (QH) x Miller 67 Mare)
Show Record
18 Halter points
20 Performance points
3 x National Champion
Register of Merit in Reining