Quarter Horse Legends
Quarter Horse Legends
On this page we show the horses we admire and use in our breeding program. These are foundation based, and maybe considered old, but they are the basis to most modern performance champions. They are not a current fad, but currently seen in many pedigrees on show performance champions in many events, from reining, cutting to roping and working cowhorse and many other events. They show their well rounded and athletic potential, as well as generations of quality, and trainablility.
Foundations Quarter Horses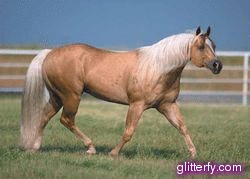 Shining Spark
(Genuine Doc X Diamonds Sparkle)
AQHA Hall of Fame
World Champion
ROM Performance
NRHA money-earner
World Show Qualifier
AQHA Leading Sire
NRCHA Leading Sire with $3,000,000. NRHA $3,000,000 sire
Sire of:
World Champion Offspring
Reserve World Champion Offspring
Superior Performance Offspring
AQHA High Point Performance Offspring
ROM Halter Offspring
ROM Performance Offspring
NRHA Money-earners
NCHA Money-earners
World Show Qualifiers
---
---
Doc Bar
(Lightening Bar X Dandy Doll )
#0076136

DIED July 20, 1992
0076136 chestnut
75 4 0 0 1 $ 95 H- 36.0 P- 0.0
leading sire of AQHA Champions,
NCHA Champions, and Arena ROMs.
AQHA Hall of Fame
Stallion Offspring Record,
World Champion , WP, CUT, WCH, HUS,
Reserve World Champion , CUT, Top Ten World Show , Superior Halter , AQHA High Point Halter , CUT, Superior Performance , AQHA Champion , ROM Halter ROM Performance , Performance Point Earners, Hall of Fame , NCHA & AQHA Offspring earned $1,178,484 in cutting.
SIRE OF: Wrld Ch 9, Resrve Wrld Ch 4, Top Ten World Show Offspring, Superior Halter. 14.275%fnd.
---
---
Peppy San Badger

(Mr San Peppy x Sugar Badger)
Color: sor
Height: 15.1

AQHA#1089924

H-0/P-41
88% NFQHA
NCHA Hall of Fame
AQHA Hall of Fame-2008
NCHA $172,710.52
#1-leading cutting horse sire of all time
1977 NCHA Futurity Open Champion
1978 NCHA Derby Open Champion
1980 NCHA Open Reserve Champion
2005 Equi-Stat, #1 Top Paternal Cutting and Reined Cow Horse Grandsire All Ages/All Divisions and #1 Top Paternal Reining Grandsire All Divisions
Wrld Ch, NCHA CUT 3 times. Resrve Wrld Ch, 1980 NCHA Open. Bronze Silver Gold Platinum ROM Perf, 1978 Open Perf Pt Earner, Hall of Fame, NCHA Ttl Pts Earned: 41; Perf Pts: 41; NCHA Earnings: $172,711
Euthanized at the King Ranch on July 8, 2005
ACHIEVEMENTS: NCHA $28,437 NCHA CoA Award Peppy San Badger is currently #4 NCHA producing sire. Sire of winners of $24,534,342.00 in NCHA
---
---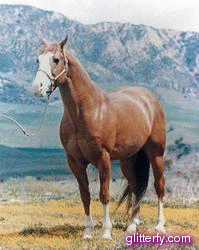 Mr Gunsmoke
(Three Bars X Gay Widow)

Color: sor

AQHA Show H-0/P-71
Superior Cutting-Open
1980 NRCHA Hall of Fame
2008 NRHA Hall of Fame
NCHA $8,476.44/COA
2015 AQHA Hall of Fame.

---
---
Hollywood Jac 86
(Easter King x Miss Hollywood)
Color: rd dun

AQHA#0592185.

100% Foundation
P-80
NRHA World Champion (1974 & 1975 Non-Pro)
Top Ten World Show (1974 Reining
Superior Performance (1974 Reining
NRHA $6,090
ROM Performance
NRHA HALL OF FAME
NRHA $1 million sire
#1 All Age/All Division Leading NRHA Paternal and Maternal Grandsire
---
---
Zan Parr Bar
(Par Three X Terrys Pal)
Color: ch

AQHA# 1014730

AQHA H-245/P-357
AQHA Champion
ROM Halter
Superior Halter
ROM Heading
Superior Heading
ROM Heeling
Superior Heeling
LTE $77,334
1977 AQHA World Champion 3 yr old Stallion
Bred by Bobbie Silva, Pleasanton, CA.
AQHA High Point Performance Horse, NRHA money-earner, Leading Sire.
Although his offspring are known as performance horses, he was the first 3-time world champion halter stallion.
Died of Colitis X on Nov. 27, 1987.
Not implicated as a HERDA carrier at this point. Hall of Fame 2010
---
---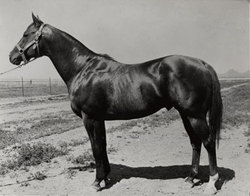 Three Bars -1940 TB
(Percentage X Myrtle Dee)
28-12-3-1, $20,840.
Won: Speed Handicap
The leading sire of racing Quarter Horses for many years. American Quarter Horse Hall of Fame 1989. Died April 6, 1968.
Three Bars was the sire of 29 AQHA Champions, 4 AQHA Supreme Champions, 317 Racing Register of Merit earners, and his foals earned more than $3 million.