Quarter Horse mares
AQHA registry
On this page you will find more of our mares. They are the foundation of our program, and most of them ride, or have been ridden. If not then we bought them unbroke. WE select and value them for their temperment, pedigree, conformation, and color is our last choice iceing on the cake so to speak. We take great pride in the quality, pedigrees, and caliber of the foals we are producing here.
Link to quarter horse legends.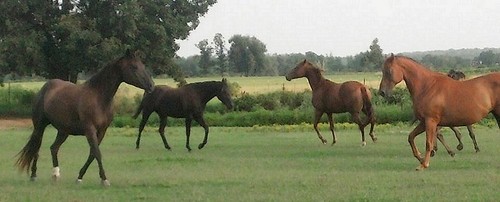 Royal tyes Pistol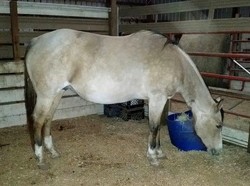 2001 aqha
buckskin roan
14.3 hands
Tye is a grand daughter of Doc Tari : NCHA Cutting Futurity `73 Open Non-Pro 2nd
NCHA LTE $16,942
COA
NRHA Offspr (10) LTE: $28,002
Equi-Stat Cutting Offspring LTE: $4,608,649,
bottom side of her pedigree going to Royal King twice : Hall of Fame Inductee,1997;Hall of Fame Producer; Reserve World Champion; Top Ten World Show; ROM & Superior Performance;AQHA Superior Cutting Horse Award;NCHA Money Earner of $24,003.19, earning his NCHA Certificate of Ability,and Bronze & Silver Awards.Royal King placed among the NCHA's Top 10 Annual Money Earners 4 Times in his Career. Leading Sire of Performance Point Earners in 1959 & 1963-67,Sired 590 Registered Foals. World Champion Offspring;Reserve World Champion Offspring; Top Ten World Show Offspring;Superior Performance Offspring; AQHA High Point Performance Offspring;ROM Performance Offspring; NCHA Money Earners; Race Money Earners;Halter Point Earners.In Royal King's first foal crop,12 of 13 foals earned AQHA ROM.
She is a nice sized mare about 14.3 hands and solid bone, great conformation. She has spent some time doing trail rides in her younger days and always out produces herself on her foals! Ouststanding everytime! She has produced white legs/ blaze and blue eyes, as I suspect she maybe splash of some kind. She is bred to Tiger Stripe Peppy for 2016 of which, I am hoping for a keeper filly. She is due in march . Chance for many combinations of color but expect a high quality foal, of that I have no doubt.
5 panel negative
sale pending!!!
---
---
css Paloduro Dunit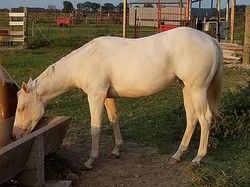 Css Paloduro Dunit
cremello
ee, aa, nd1/nd2, CrCr
This filly is a dream come true, by pedigree, type, temperment and quality.
Her pedigree is full of working, performance champions. Palo duro Cat, High brow Cat,
Freckles Playboy, Dun It Ok, Definitely dunit, Mister Dual Pep,
Peppy San Badger, Tuf N busy. Her papers are stacked.
Not for sale
---
Diamonds Chiffon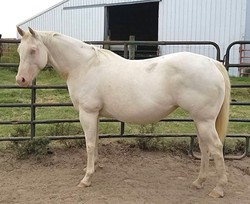 (CD ZAN X ROYALS GABRIELLE)
AQHA 15. h. cremello
granddaughter to
Cd Olena: LTE $170,706
Sired 535 Money Earners, LTE $14,100,000
ranked 3rd among all time high leading living cutting horse money earners
Hall of Fame, NCHA
NCHA Horse of the Year, 1995
NCHA Futurity, '94 1st O Futurity Champion
NCHA Derby, '95 1st O Derby Champion
NCHA money-earner, COA
by
Doc O lena: 1970 NCHA Futurity Champion. NCHA LTE: $21,991.93.
A Leading Sire and Leading Maternal Grandsire NCHA Money Earners.
AQHA Hall Of Fame.
Sire Of Multiple NCHA Hall Of Fame.
great Grandsire
Zan Parr Bar: AQHA Show H-245/P-357
ROM Performance
Superior Halter
Superior Steer Roping
AQHA Champion
AQHA Hall Of Fame
Three-time World Champion Halter Stallion: 1977, 1979, 1980 (In 1979: won the Halter and placed 6th in Heading & 7th in Heeling)
1977 AQHA Hi Point Junior Halter Champion and Halter Stallion
1979 AQHA Hi Point Steer Roping Champion
granddam Sparkles Roseanna : M/O $116,000 BY Diamond Sparkle
dam of the great Shining Spark.
Dam is by Royal Three Charge
AQHA Race SI-103/AAAT/ROM
(SW) $16,873
Sire & Grandsire of AAA, Sire of Performance ROM, Superior Race, Track Record Setter, Winning Barrel andRope, Pleasure and Dressage Horses.
grand daughter to Ribbon Page Sire of: 1 Youth AQHA Champion, 3 Youth Perf ROM, 5 Open Perf ROM, 1 Youth Halter ROM
Sire of: 277 AQHA foals, 1 ApHC foal, and 3 sets of QH twin foals. Maternal GS of 1 Race money earner, Open, Amt and Youth Halter ROMs, Amt Perf. ROM, IBHA World Champions, PHBA Champions, NRCHA, NSBA, NRHA, and NCHA money earners.

very bottom goes to well known Two Eyed Jack: AQHA Champion
and AQHA Hall of Fame inductee and Mr 89er a leo/ king bred horse Sire of 2 AQHA Champions, 11 performance ROMs and 30 Race ROMs. Leading maternal gransire; Sire and grandsire of the dams Multiple RC ROMs, including HIGHEASTERJET($1,633,065), All American Fut. winner.
check our foaling pages for future updates on foals.
NOT FOR SALE!!!
---
---
MOSU Nu Dixie Chex
2007 black aqha
(RHM Cow Catcher X SMSU Phantom Bar)
black sunburned here.
Grand fathers
---
Nu Chex to Cash
AQHA #1 All Time Reining Point Earner. The only horse in AQHA history to win both the Reining and Working Cow Horse high point titles the same year. 2002 NRHA Intermediate and Limited Open World Champ. 2002 Non Pro and Int Non Pro Reserve World Champ. PHBA World Champ Sr Reining and Senior Working Cow Horse. Earner of over $61,000.
INDUCTED IN THE NRHA HALL OF FAME
NRHA MILLION DOLLAR SIRE
Multiple World Champ and World Champ Sire. Nu Chex offspring have now won over $1,214,000.
Zans Gold Jack
AQHA H-19/P-231
AQHA Champion-Open
ROM Heading-Open
ROM Heeling-Open
ROM Working Cow Horse
Superior Heading-Open
Superior Heeling-Open
1985 AQHA High Point Heeling Stallion Open
1985 AQHA World Jr Working Cow Horse Open-3rd
1986 AQHA Hi Point Heading Open-9th
1986 AQHA Hi Point Heeling Open-9th
1987 AQHA World Sr.Heeling Open-5th
Sired 210 foals,1 Raced-$0,84 earned AQHA H-140/P-5327.5,5 ROM Halter,60 ROM Performance,4 AQHA Champions,27 Superior Performance,1 AQHA World Res.Ch,PHBA H-0/P-56,NCHA $56.40,NRHA $6,504,NSBA $5,369,NRHA $2,924,Earners of $131,186.18 in Incentive Fund money.
The Last Son Own son of Three Bars 28-12-3-1, $20,840.
Won: Speed Handicap
The leading sire of racing Quarter Horses for many years. American Quarter Horse Hall of Fame 1989. Died April 6, 1968.
Three Bars was the sire of 29 AQHA Champions, 4 AQHA Supreme Champions, 317 Racing Register of Merit earners, and his foals earned more than $3 million.

5 panel negative!
---
---
---