Smart Pep Boon
Smart Pep Boon
You can never go wrong with proven lines in foundation performance quarter horses. They are the bricks that built the breed and not a passing fad or flavor of the week. Without them our current horses would not have come so far.
He fits right in to our farm motto " Pedigree, quality and color" !!!!
First I want to announce that Boonie is coming to our farm in 2017 and want to thank Running Wild Ranch for this great opportunity in 2017!! WE are honored to be able to lease him! He will be limited to A FEW outside mares, must be 5 panel neg and registered AQHA OR APHA.
$500 service fee includes $150 booking in advance, will get a sonogram and 1 weeks free board. Contract required.
2007 grulla roan stallion 15. hands and 5 panel neg.
Boonie has substance, great conformation with a lot of bone and hoof, not to mention balanced and a set of withers to die for.
He has worked cattle, ridden trails, ridden English & jumped, and ridden bareback. He is willing and has a great disposition. He passes both color and athleticism on to his foals. 5 panel neg. Owned by Running Wild Ranch..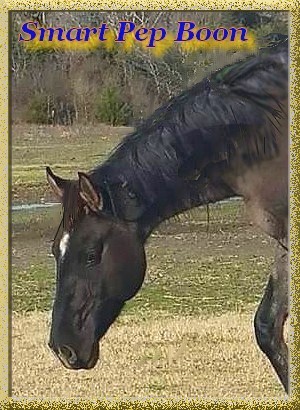 His working clothes picture and pedigree details with pictures shown below with pictures of his amazing ancestors.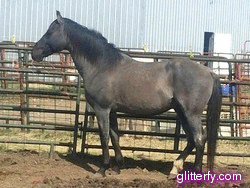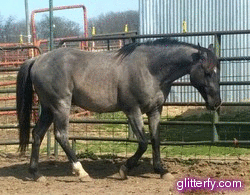 [Glitterfy.com - *Glitter Photos*]
sire : Smart Lena Boon
He is ranked #1 for Non-Pro money earning offspring for the 2008 NCHA Cutting Futurity. Sire of NCHA $116,300
HIS SIRE, SMART LITTLE LENA, $743,275: NCHA Triple Crown. Equi-Stat #1 All-Time Leading Cutting Sire, an NRHA All-Time Leading Sire and an All-Time Leading Reined Cowhorse Sire, siring the earners of over $33,000,000, including- own son of Doc O'lena.
Doc O' Lena:1970 NCHA Futurity Champion. NCHA LTE: $21,991.93.
A Leading Sire and Leading Maternal Grandsire NCHA Money Earners.
AQHA Hall Of Fame.
Sire Of Multiple NCHA Hall Of Fame.
Doc O`Lena earned $21,991.93 in NCHA earnings, along with an NCHA Certificate of Ability. Among Doc O`Lena`s offspring were Doc Athena, Sugar Olena, Lenas Peppy, Smart Little Lena, and Todaysmyluckyday. His son Montana Doc is a member of the NCHA Hall of Fame. Doc O`Lena was the first NCHA Futurity winner to sire a Futurity winner when Lenaette won the Futurity in 1975. His son Smart Little Lena was the first winner of the NCHA triple crown. And in 1978, Doc O`Lena himself was syndicated for $2.1 million, at that time a record for the cutting horse industry.

BET YER BOONS, by Peptoboonsmal. Earner of $73,281: top 10, NCHA Open Futurity; finalist in the NCHA Open Super Stakes, PCCHA Open Stakes and Abilene Spectacular Open Classic. This is her only foal of performance age.
2nd dam
BET YER BLUE BOONS, by Freckles Playboy. Earner of $352,694: NCHA World Champion; NCHA Finals Champion twice; AQHA Reserve World Champion; NCHA Hall of Fame; Bonanza 5/6-Year-Old Open Champion; 3rd, NCHA Open Classic/Challenge. Dam of 7 money-earners earning $375,766, including-
double ROYAL BLUE BOON, by Boon Bar. $381,764: NCHA Super Stakes Co-Reserve Champion; 8th, NCHA Futurity; split 3rd, NCHA Open Finals. Equi-Stat#1 All-Time Leading Cuffing Producer (1995-2004). Her foals have earned $2,613,378; her foals, grandfoals and great-grandfoals have earned nearly $4,000,000, including-

PEPTOBOONSMAL (Peppy San Badger).
NCHA LTE $165,308.44
ACHA & AQHA LTE $15,176.56
Lifetime Cutting Money Earned: $180,487.
1997 NCHA Award: COA
1995 NCHA Open Futurity Champion
1996 Bonanza 4-Year-Old Open Derby Champion
4th, 1996 NCHA Open Super Stakes
1996 Gold Coast Open Derby Champion
Finalist, 1996 NCHA Open Derby
Finalist, 1996 Augusta 4-Year-Old Open Futurity
2010 NCHA #4 Leading sire & NRCHA Top 15 all time leading sire, equi-stat #5 all time leading cutting sire.
Freckles Playboy:
NCHA $59,975.59
NCHA COA Bronze/Silver
Hall Of Fame 2013
In NCHA, Freckles Playboy is ranked third on the list of all-time leading sires, by offspring earnings. His sons and daughters tallied an amazing $24.5 million in NCHA earnings. Freckles Playboy offspring also earned more than $285,000 in the National Reined Cow Horse Association, more than $125,000 in the National Reining Horse Association and nearly $177,000 at the AQHA World Championship Show. He has 2,084 registered get, and he only competed in one AQHA event, reining, earning a World Championship in 1977
 
Dams side:

grandsire: Holidoc
An Equi-Stat All-Time Leading Cutting Sire
Earned $120,054 (NCHA $93,140), NCHA COA
1986 West Texas Open Futurity Champion
1986 Lazy E Open Futurity Reserve Champion Finalist in the NCHA Open Super Stakes
NCHA Open Derby
Bonanza 4-Year-Old Open
4th Louisiana Breeders´ Open Futurity
Money-earner in the Augusta 4-Year-Old Open Futurity and Big Country Open Maturity
Holidoc has sired the earners of over $995,000
NCHA: $910,000
NRHA: $70,000
NRCHA: $8,200
AQHA World Show: $7,800
Over 1,600 AQHA points
14 ROMs
5 Superiors
Doc quixote
NCHA $3,728.96
NCHA COA
1973 NCHA Cutting Futurity Non-Pro Champion
NCHA Hall of Fame Sire
Sire of: World Champion, Res. World Champion, Superior Performance, AQHA HI.PT.Perf. Stallion, AQHA Champion, NRCHA Champion, ROM Halter, ROM Performance. An all time producing sire of money earners:4 are top 10 & the only sire to produce an offspring with LTE of over $1 million(Poco Quixote Rio-gelding) Doc Quixote offsprings have earned in excess of 10 million dollars
Mr San Peppy
two-time National Cutting Horse Association (NCHA) Open World Champion in 1974 and 1976, MR SAN PEPPY also won the AQHA World Cutting Championship in 1976, becoming the first horse ever to win both titles in the same year. Then, in 1978, he became the first horse to ever win over $l00,000 in open cutting competition. The pinnacle of his career occurred in 1974, when he became the youngest horse ever to be inducted into the NCHA Hall of Fame. Sire of 1,328 foals. He is a full brother to PEPPY SAN and Miss Leo Peppy. Inducted into AQHA Hall of Fame in 2011.
Docs Prescription
AQHA Show H-9/P-16; ROM Western Pleasure; AQHA Champion; NCHA $106.95; NCHA Offspring LTE $2,029,014.94
Sire of Blue Boy Doc, World Champion Sire, and Shy Prescription