Tru Gaybar Streke
Tru Gaybar Streke
We are really excited to have this young colt for our future paint herd sire!!! WE expect some really nice foal from him in 2020. He has been started winter of 2018 and he is so amazing. He has the moves and agility that I was so thinking he would, like a cat in total control. He is a smooth ride and very trainable and willing. He has been so much fun to work with!!! Pictures coming soon of him riding!!!
---
---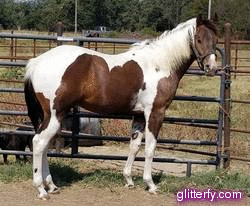 Tru Gaybar Streke
(A painted Tru Rolex X Scr Streke of Gold)
2016 APHA colt
All Around champion filled pedigree, Breeding, guaranteed for tobiano . Great potential in Ranch Versatility, Ranch Work, Reined Cow, Reining, Roping, Working Cow. World class breeding, huge potential for most event at any level, at an affordable price! WEll bred paint colt ready to start into someones training program , nominated for NRHA. Has been handled well with good ground manners. Saddle training started and will be ready for riding when he fits into your timeline. Gentle and easy to handle! 5 panel neg by parentage homozygous tobiano Ee Aa ToTo
Has had basic 101 ground handling, has had saddle and bridle training, great manners, gentle and sweet natured. Loves attention.
pedigree: paternal Grandfather: Gay Bar Drummer :6 Superiors: Working Cow Horse, Calf Roping, Heading, Healing, Ranch Cutting, and Ranch Riding, World Championships, 2005 APHA #1 Point Earner, 2007 Greatest American Paint Horseman Champion, 2014 was his fourth Senior Working Cow Horse World Championship in the last five years. He is also a 3-Time World Champion Sire. Drummer's 2018 success includes a world championship in Senior Steer Stopping, reserve world championships in Senior Working Cow Horse and Senior Heeling, as well as Top 10 finishes in all other events—all of which tallied up to the top spot on the standings for multiple major awards. On top of plenty of ribbons and buckles Drummer heads home with the Oscar Crigler Cattle Award, High-Point Western Horse and All-Around Open Open Horse awards.
video to be seen from the world.
dams side:
Grandson of QT Poco Streke!!!
APHA HALL OF FAME
NRHA BRONZE TROPHY
APHA WORLD CHAMPIONSHIP RESERVE REINING STAKES
WINNER OF THE WORLD WIDE PAINT HORSE CONGRESS
HIGH POINT OCAP HORSE (ALL THRU NRHA COMPETITION)
RESERVE NRHA LO AT THE ALL AMERICAN QUARTER HORSE CONGRESS (AGAINST 47 AQHA REINERS)
TWICE NRHA OPEN CHAMPION & TWICE NRHA LO CHAMPION
EARNED HIS ROM IN REINING (18 pts) AT 2 SHOWS
HIGH POINT MIDWEST OPEN & LIMITED OPEN REINING HORSE
others on his papers are A Tru Rolex , Diamond Chex, one off Shots Flying Spark!!
ToTo, Aa, Ee and 5 panel neg. he is a really nice well rounded colt. Cant wait to see his foals in 2020.
He is very sweet and fun to work with, I cant wait to ride him later this year.