2022 FOAL GALLERY
2022 FOAL GALLERY
Pictured below 2022 foals as they are born, with pedigrees link. WE will post if available or sale pending. Deposit will hold, payout by weaning. Great way to get a super foal prospect with color, quality and excellent breeding. Best deal before weaning, after that the price goes up.
Call me, Shelly 479-427-0318 or message, text or leave a voicemail or email pifersd@aol.com. Contracts will be provided at deposit and also coggins health cert for travel included in price within the usa.
Prices vary according to each foals, evaluation, testing, sex, color and quality, the breeding is there already!!!
All sire and dams of our breeding program have been tested 5 panel neg. Any outside stallions have been tested negative as well.
Take the guess work out of breeding. Feel confident in buying a foal from us! Thank you for looking! WE have kept 2 back for our -program. ALL OUR FOALS HAVE SOLD THIS YEAR! THANK YOU TO ALL OUR GREAT NEW CUSTOMERS, AND REPEATS! THEY ARE HEADED ALL OVER THE US, NH., NC, OK, TX.
pictures of stallions and mares below, with pedigree links
---
---
---
(Rawhide Slvr Bullet X Mizztiefied) 2018 AQHA smokey black stallion, 14.2- 1/2 H. , 5 panel and IMM neg., Farm bred stallion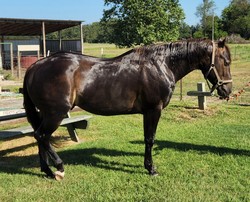 CSS Silver QT Rosette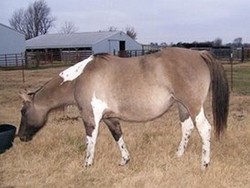 QTs tuff Rose Olena
Mizztified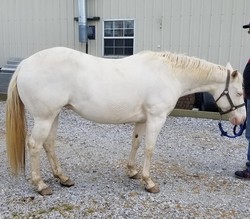 Stetson -smokey creme dun champagne colt- foaled 3/30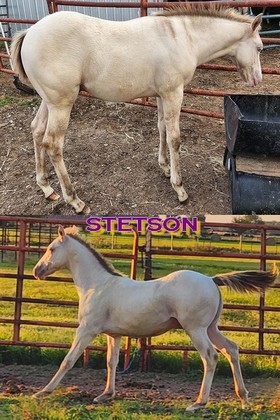 css One in a Million, aka Stetson,: pedigree he is grulla, creme champagne, Ee, aa, Cr/n, Ch/n, Dn/n, not for sale at this time.
---
---
below are the last 2 foals of the year, by Smokin Slvr bullet
CSS Smokin Silverado-foaled 4/11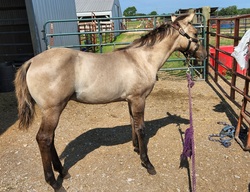 pedigree Hz black, EE, aa, Dndn,
5 panel neg and imm neg. by parentage testing, this colt is available, and if you are intersted in a top show prosepct in reining, working cowhorse, boxing, sorting, ranch horse classes, then stop here! He is hz for black as well, and will mature to 14.2 to 14.3 hands. this colt has several siblings being shown or ridden in events. roping and cutting. A few others are reaching age of starting and we are following them also, as the owner plans to train and show them also . SOLD show home!
css qts silver denali- foaled 2/18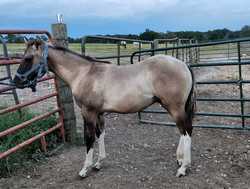 CSS QT Smokn Rosalena- foaled 3/18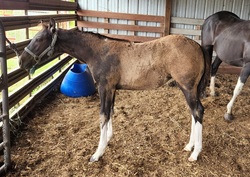 pedigree sold to a great lady in NC for showing!
---
the next 2 foals below are by Hickory dun Classic
diamond Chiffon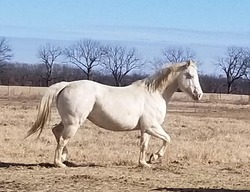 Crystal : gold creme filly -foaled 3/24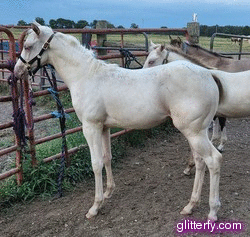 pedigree sold going to a great farm in Texas
---
---
---
---
---
---
---
---
---
---
---
---
---
---
---
---
---
---
---
---
---
---
---
---
Below are 2 more foals by Smokin Silver bullet
Shining Tivio bar
Smokey black filly- foaled 5/10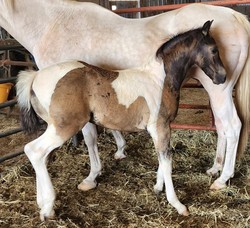 Shania pedigree smokey black tobiano filly / 6 panel neg by parentage testing
---
5 panel neg and IMM neg by parentage testing. Ee, aa, Crcr, To/n -Ee,aa, Crcr Toto,
---
This is the only filly that we have ever had with Tivo, however Tivio has a beautiful smokey cream 2021 colt who is available and can be seen on our horses for sale page! . This filly is beyond stunning, and a typical example of all Tivios foals she has produced. Her pedigree speaks for itself, check out the link. Not for sale
OUR foals are registered or registerable with AQHA OR APHA