PROSPECTS
PROSPECTS
On this page you will find some of our up and coming broodmare/stallion and performance prospects.
~~~~~~~~~~~~~~~~~~~~~~~~~~~~~~~~~~~~~~~~~
WE want to thank all our customers, as we have sold all the ones we had for sale and others we did not want to sale . We have started We have 9 -2019 foals born and some will be for sale to be listed as they are born and evalutated. Check out great color and quality, with amazing pedigrees!!! Check on our 2019 foal gallery page. Also we have a facebook page under Chambers Springs Stables and Shelly Pifer
---
---
Below
Todays Shiney Player (Sparkin Playboy X Todays Bootscooter) farm stallion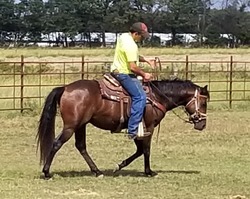 css QTs Tequila Rose
2019 apha filly
grulla tobiano
5 panel neg by parentage
aa, Ee, Dndn, Toto
- Hollywood Dun It: NRHA LTE $66K
Sire NRHA Champion, NRHA Hall of Fame, NRHA $6M Sire. Sire of AQHA and NRHA Champions
- double Zan Parr Bar: AQHA Champion, AQHA 3X World Champion, AQHA Hall of Fame
-Rawhides Slvr Bullet : AQHA Champion, AQHA All-time leading point earner (reining)
-Rawhides Dunnit :
AQHA Champion
LTE: NRHA LTE $79K
NRHA Champion
AQHA's #1 All-Time Open Reining Point Earner
345 Reining points, 27.5 Halter points and 6 Performance points for a grand total of 378.5 AQHA points
Top 10 at 2010 All-American Congress
62 AQHA wins in Open Reining
14 NRHA Open wins
8 Grand and 5 Reserve Championships18 Show All-Around Wins and 3 Show-Reserve All-Around Wins
-double Zan Gold Jack
AQHA H-19/P-231
AQHA Champion-Open
ROM Heading-Open
ROM Heeling-Open
ROM Working Cow Horse
Superior Heading-Open
Superior Heeling-Open
1985 AQHA High Point Heeling Stallion Open
1985 AQHA World Jr Working Cow Horse Open-3rd
1986 AQHA Hi Point Heading Open-9th
1986 AQHA Hi Point Heeling Open-9th
1987 AQHA World Sr.Heeling Open-5th
Sired 210 foals,1 Raced-$0,84 earned AQHA H-140/P-5327.5,5 ROM Halter,60 ROM Performance,4 AQHA Champions,27 Superior Performance,1 AQHA World Res.Ch,PHBA H-0/P-56,NCHA $56.40,NRHA $6,504,NSBA $5,369,NRHA $2,924,Earners of $131,186.18 in-
-Nu Chex To Cash: NRHA World Champion, NRHA Hall of Fame, NRHA $2M Sire.
- Nu Cash by Colonel Freckles AQHA Hall Of Fame : NCHA $38,031.03 C0A Bronze NRCHA Hall of Fame
Sire of Nu Chex To Cash (NRHA Hall of Fame)
Nu Cash became an NRCHA Million dollar sire in 2003. The only NRCHA Open Snaffle Bit Futurity Champion to sire three Open Snaffle Bit Futurity Champions. Nu Cash won the Futurity in 1987 and his offspring swept the Futurity from 1995 thru 1997 – The Nu Colonel in 1995, She's A Lot Of Cash in 1996 and Smart Little Cash in 1997.
Nu Cash's offspring have combined earnings over $1.8 million and 2955 AQHA Points.
-double Three Bars: The leading sire of racing Quarter Horses for many years. American Quarter Horse Hall of Fame 1989.
The sire of 29 AQHA Champions, 4 AQHA Supreme Champions, 317 Racing Register of Merit earners, and his foals earned more than $3 millio
dams side:
QTPoco Streke has EARNED THE NRHA BRONZE TROPHY, THE APHA WORLD CHAMPIONSHIP RESERVE REINING STAKES, WINNER OF THE WORLD WIDE PAINT HORSE CONGRESS, HIGH POINT OCAP HORSE (ALL THRU NRHA COMPETITION). HE WAS RESERVE NRHA LO AT THE ALL AMERICAN QUARTER HORSE CONGRESS (AGAINST 47 AQHA REINERS). HE IS TWICE NRHA OPEN CHAMPION, AND TWICE NRHA LO CHAMPION.
Also a grand daughter of Red Doc NCHA money earner son of Doc O Lena
Doc O'Lena
Hall of Fame
NCHA Futurity
NCHA Derby
NCHA money-earner
Performance Point Earner
Sold to a great home !!

---
---
CSS QTs Riskey Affair aka Cody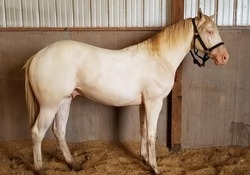 ( Pepsi Color Master X Qts Royal Carol)
2017 APHA Perlino dun tobiano
AA, Ee, Dndn, CrCr, Toto
This really amazing colt has the sweetest temperment. He is always in your back pocket and wanting to be with humans. I expect he will be a lot of fun to train and a pleasure to show and ride when he is finished. He is very willing and good natured taking everyting in stride. I have the pleasure of working with him as he was foaled out here and raised for 18 months. He is going to a new home, no fault of his own. And he will be shown there also and used for breeding later.
With his breeding such greats as RR Riskymastrepeice, Doc Quixote, Pepsi Poco, QT Poco STreke, he will make a great reining or roping horse and super stallion as well.
$SOLD!! GONE TO TEXAS!!
---
---
CSS QT Cuttin Silver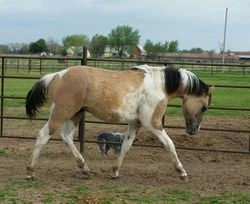 CSS QT Cuttin Silver aka Silver
2014 grulla homozygous dun and tobiano colt
he is 5 panel negative, sire and dam are negative for agouti/bay gene.
checkout his webpage here
$4000.00
sold to Washington state!! WE will miss him one of a kind!!
We will never be able to do this breeding again!!
---
---
qts Royal Reba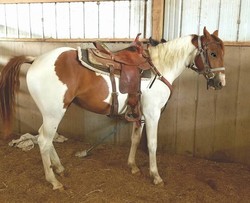 (Qts Cita Spots x Qts Royal Carol)
2016 sorrel tobiano
REally nice paint filly that is going to make a great arena event horse, in most any avenue from barrels to roping. She is really brave and eager to please, and will be a big horse 15.1 most likely. Her sire and dam's pedigrees are filled with champions.
QTs Cita Spots : 54 OPEN REINING, 1 OPEN WCH, 1 ROM, 1 SUPERIOR. , NRHA MONEY EARNER, he was also #2 in Junior reining Honor roll, and #3 in Open 2007 . Multiple circuit champion. Currently being shown 2016/2017.
Own son of
Qt Poco Streke:
NRHA BRONZE TROPHY
APHA WORLD CHAMPIONSHIP RESERVE REINING STAKES
WINNER OF THE WORLD WIDE PAINT HORSE CONGRESS
HIGH POINT OCAP HORSE (ALL THRU NRHA COMPETITION)
RESERVE NRHA LO AT THE ALL AMERICAN QUARTER HORSE CONGRESS (AGAINST 47 AQHA REINERS)
TWICE NRHA OPEN CHAMPION & TWICE NRHA LO CHAMPION
EARNED HIS ROM IN REINING (18 pts) AT 2 SHOWS
HIGH POINT MIDWEST OPEN & LIMITED OPEN REINING HORSE
Her dam is also a grand daughter of QT Poco Streke.
Also notable mention is Leo San Cita:
APHA Show H-53/P-353
APHA Champion
Superior Halter
Superior Working Cowhorse
Superior Steer Stopping
Superior Reining
Superior Heading
ROM Heeling
17 Times Grand Champion
1995 Champion Honor Roll Working Cowhorse
1995 APHA Congress Reserve Champion Working Cowhorse
1995 Reserve Champion Senior Reining
1996 APHA Congress Champion Heading
1996 Reserve Champion Heeling
1997 APHA Congress Reserve Champion Steer Stopping & Working Cow Horse
APHA World Show Working Cow Horse-3rd
we will start her saddle training this fall and start her under saddle next year.
Reba is current on vaccinations, deworming, and regular handling. Leads, trailers, loads and has basic ground work.
has had saddle training, and basic ground work. $3000.00 Sold in foal to Smokey for 2021
---
---
Hollywood Lilhickory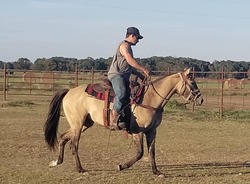 Hollywood Lilhickory AKA Paris
( Jessys Hollywood Doc X Smart high brow gal)
2016 aqha buckskin dun filly
neg. hrd, mh, hypp, pssm1
4 panel neg, Gbed carrier

she will mature close to 15.1 handsaqha buckskin dun filly

Sweet mare, loves to work, very athletic. We have gotten her back in hopes of training and riding her before breeding.

Her pedigree is exactly what I have been working towards in type, style, agility, trainability, straight and correct as well as color combination!!

Her pedigree boast such greats as Hollywood dunnit, Smart Lil lena, Highbrow hickory, Peppy san badger.
she his in training now, and doing well,
has been easy to train, but she is not lazy. needs further training to finish her. She is very agile and willing to please. She can get around but she also will stand for saddling, mounting etc, she is stopping, backing and started neck reining well and learning other riding training as we go.

she is very well bred, and would make a great reining, team penning, working cowhorse, roping with training. She will mature and widen up with age, she is only 2.

$2800.00 sold!!!!! to a great new home! she is well loved!
---
---
css Rawhides Nu Chex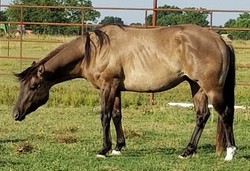 CSS Rawhides Nu Chex aka Cash
2015 aqha grullo colt
5 panel and dna verified by aqha ! listed with apha.
WE are really excited about this colt, and what he will round out for our future breeding program. He has some really good lines, include,Rawhides Silver Bullet By Dunnit of Rawhide by Hollywood Dun it. Dams side Nu chex to Cash, Nu Cash by Colonel Freckles, and Zans Gold Jack by Zan Parr Bar/
This is my dream colt that i bred and I raised here and one I am having a hard time parting with. He has a great new home, so it is all better with that. sale pending to a great home, he will be shown in reining!!!
I will be getting 4 foals by him in 2019, CHECK THE FOAL PAGES OUT
SOLD GONE TO kANSAS!! WORKING ON A RANCH
---
---
CSS Atru Lacey Rose
AKA Lacey
(A Tru Indian Chief X QTs Tuff Rose Olena)
She is the last foal for us out of her wonderful mother we had for years.
Sire side: A Tru Rolex, Shots Flying Spark, QT Poco Streke.
Dams side : QT Poco Streke, Doc O Lena.
Tested double homozygous black and tobiano!
sire and dam 5 panel negative!
---
---
---
Smokin Silvr Bullet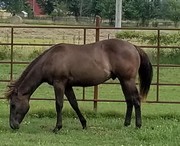 (Rawhide Silvr Bullet X Mizztified)
This amazing colt, we will start in 2020, he is one of a kind, carries the creme gene, negative agouti. Homozyous black.
Super excited about this colts future as a farm stallion in 2021!!!
Not for sale at this time
we register all our foals.