PROSPECTS
PROSPECTS
On this page you will find some of our up and coming broodmare/stallion and performance prospects.
~~~~~~~~~~~~~~~~~~~~~~~~~~~~~~~~~~~~~~~~~
WE want to thank all our customers, as we have sold all the ones we had for sale and others we did not want to sale . We have started 3 fillies on this page this year 2 have sold, one is our keeper Lacy . We have 8 -2016 foals coming and some will be for sale to be listed as they are born and evalutated. Keep an eye on our foals page. We will post them as the are born. Also we have a facebook page under Chambers Springs Stables and Shelly Pifer
---
Sugar Kissed Express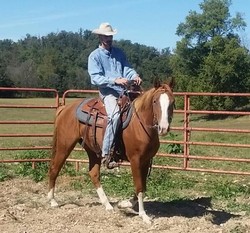 2013 aqha filly
sorrel sabino
Lenas Sugarman

by Doc O lena : NRHA and NCHA $36,936 Two-Time 2000 USET Gold Medalist Shown by Rocky Dare Ncha Major Event Finalist
Zan Parr Express : AQHA Champion, ROM Performance, Superior Reining
1983 AQHA High Point Reining
Sanpeppy Smoke: grandson of Mr Guns Smoke, 1982 NRCHA Snaffle Bit Futurity Open World Champion. AQHA Arena ROM
Jewels Leo Bars: ROM Performance
NCHA $6,037, NCHA COA
Race SI-85, AA, 2-0-1-0, $30
Sire of NCHA Futurity Champion & Reserve Chs and money earners, AQHA Superior Perfs, Hi Pt Perfs, Halter perf & AQHA ROMs
Sire of AQHA Hall of Fame, Colonel Freckles & Freckles Playboy.
SOLD!!! THANK YOU DEBBIE AND STEPHANIE
5 panel negative!
---
---
---
CSS SMart Little Selena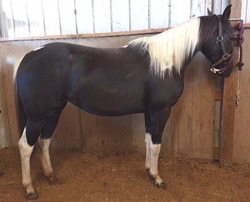 2014 apha black tobiano
aka Selena
(Rips Prince of Tides X Smart LIttle Cita)
foaled march 2nd 2014
Super nice filly, great pedigree and color.
black tobiano

SIRE SIDE: line bred QT Poco Streke,
DAM SIDE: Leo San Cita, Docs Gold Edition! Extended Smart Little Lena, Adios Amigo, Doc Doll, Qton Eagle, super nice filly. Finally I get to keep one, these are hard to come by!!
TEST CAME BACK DOUBLE HOMOZYGOUS!!!!
5 panel negative!
SOLD TO Tracy B.! congradulations and thank you for putting your faith in Selena!!!
---
---
CSS QT Cuttin Silver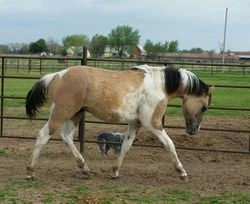 CSS QT Cuttin Silver aka Silver
2014 grulla homozygous dun and tobiano colt
he is 5 panel negative, sire and dam are negative for agouti/bay gene.
checkout his webpage here
$4000.00
sold to Washington state!! WE will miss him one of a kind!!
We will never be able to do this breeding again!!
---
---
Son Of Tiger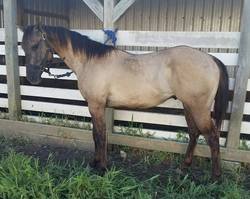 Son of Tiger
2014 AQHA grulla
Sire was a working ranch horse heavy foundation breeding, and we have followed him for years. Sire is line bred peppy san and leo . dams side has Peponita, Docs Sug, War Leo and a dash of speed Snooper bid. This colt is pure perfection. He is very easy to work with and easy on the eyes. This colt cant be faulted, great legs, big hip neck and chest perfect. . WE expect him to be close to 15 to 15.2 hands at maturity. This colt is very sweet and loves attention. He is very athletic and would make a ranch horse, arena performer of most any event and do it well. Reining, sorting, working cowhorse, roping or cowboy races! He should be able to do it all and do it well. He will be one that is very hard to let go, a good home a must. Price is Firm!

SOLD SOLD SOLD TO A GREAT NEW HOME! He will be used on cattle and working around the farm and maybe some showing! This colt really took a peice of my heart. I am really glad to say I am getting his mother, and pray and hope for a filly like him in 2016!!!
$3000.00
---
---
css Rawhides Nu Chex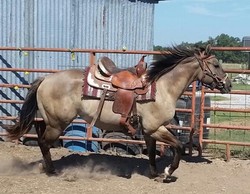 CSS Rawhides Nu Chex aka Cash
2015 aqha grullo colt
tested 5 panel neg via parents testing !
WE are really excited about this colt, and what he will round out for our future breeding program. He has some really good lines, include,Rawhides Silver Bullet By Dunnit of Rawhide by Hollywood Dun it. Dams side Nu chex to Cash, Nu Cash by Colonel Freckles, and Zans Gold Jack by Zan Parr Bar additionally his pedigree includes Mr Diamond Dude, Three BArs, Three Chicks and Parkers Trouble.
---
---
CSS Atru Lacey Rose
AKA Lacey
(A Tru Indian Chief X QTs Tuff Rose Olena)
She is the last foal for us out of her wonderful mother we had for years.
Sire side: A Tru Rolex, Shots Flying Spark, QT Poco Streke.
Dams side : QT Poco Streke, Doc O Lena.
not for sale. Tested double homozygous black and tobiano!
sire and dam 5 panel negative!
STARTED RIDING A DREAM COME TRUE!!! SHE IS A STAR! I really wish I could show her, agile, responsive , easy to train and learns fast..wow, my dream horse.
---
---
---
we register all our foals.