TRAINING AND BOARDING
TRAINING SERVICES AND BOARDING INFORMATION
TRAINING~~~~~BOARDING
CONTRACT REQUIRED
BOARDING
MARE care boarding All hay and feed provided in this price. Vet charges for emergency or other will be paid by owner in addition to extraordinay services beyond basic full care board. Contract and care sheet will be provided and completed before arrival. Stall and paddocks available. Small pasture may be shared. No Stallions.
$5.00 day paddock only board for dry mares
$8.00 day stall board with turn out time for dry mares
add $2 per day for mares with foals
NO PUBLIC BOARDING AT THIS TIME.
Training information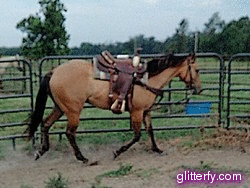 [Glitterfy.com - *Glitter Photos*]
At this time we are working with 2 experienced trainers who have patience and understanding. WE train horses from the ground up with consistant and firm handling. Each horse is trained according to its needs and ability. Progress according to understanding and compliance, and pushed to better accomplishments on each session.
Please book your spot as we are limited ot training on site for quality not quantity. Our goal is finshed horse according to the time allowed.
All horses must be current on vaccinations, coggins and dewormings as well as healthy and halter broke. WE do not take wild horses or ill/malnourished horses. Please have your horse in good health before arrival. WE can transport horses for a small fee to our facility if within 25 miles $20. Outside that will be excessive mileage over 25 miles a charge of $1.00 per mile. We reserve the right to refuse any horse deemed unsuitable by health reasons or other for training.
WE provide a custom feed program tailered to each horses requirements.
Private paddock and/or stalls will be provided, with training.
rehabilitation, further finished riding, ground work basic boot camp and starting riding horses.
No stallions.
$550 per month.
excessive feed, supplements, shoes/trims are extra. Trailering for trail rides $10.00 per session.
Please contact us at 479-427-0318, text or leave voicemail
email pifersd@aol.com
---
MY TRAINING EXPERIENCE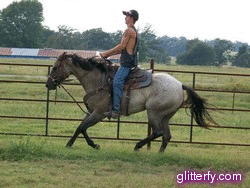 [Glitterfy.com - *Glitter Photos*]
My training is based on what I have learned over the years, 40 years, from working for other farms, trainers and taking lessons, showing in hand and undersaddle, carriage driving, jumping, dressage, saddle seat riding, western pleasure, english pleasure, pleasure riding, trail riding, TB rehabilitation, conditioning for show/sales, seminars, books, magazines, training videos, training shows and also the willingness to keep learning and to be flexible. Bringing consistent, regular instructions to each individual horse, with persistence, firmness and reward, and building on that as they progress. This developes a strong working relationship that involves trust and giving which brings confidience to the animal and the desire to please. The foundation is good for life, but finishing takes years, and regular training.
We area allowing a few horses a month at this time to come in to the farm for training. Horses must have coggins and be vaccinated, dewormed and healthy. Openings are limited.
---
---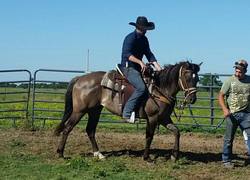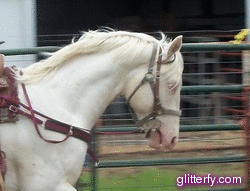 [Glitterfy.com - *Glitter Photos*]
Training is recommended 45-60 days minimum for satisfactory results as you will be satisifed with extended training, which will be retained and instilled more than short sessions of training which will be lost easier with little practice. Each horse progresses at the level of its ability and acceptance. Call for details and availability. Read about fees and requirements next.
$550.00 per month basic to start includes basic hay and grain ration. Other requirements maybe above the fee and subject to payment before departure. Each animal will be fed according to its needs, any exceptionally heavey ration maybe subject to extra charges, to maintain the animal in good health as deemed necessary and subject to payment by departure. Extra boarding requirements, private stalls, paddocks and blanketing, maybe subject to extra charges, as requested by the owner. Stallions are subject to extra fees due to the nature of their requirements and extra ordinary housing and handling needed for safety reasons of all other horses on the property and humans and for their own protection of said stallion from self injury as well. All stallions will be in private paddocks with electric fences and stalled also as needed or access to a covered shed.
additional fees only would be veterinary needs for medical attention if necessary only. No drugs are used in training or riding except in the extreme case of a first time horse for shoeing, to help them to accept the process only. Spurs maybe used as a training aide but not as a device for punishment.
SHOES MAY BE NEEDED THAT IS EXTRA. $55
additional fees. cattle charge per time TBD
coggins trip to vet and charge $35.00
any health issues, that may need vet attendance paid for by owner.
we may also do health related work as needed for a horse and charges will apply.
---
TRAINING HORSE recommendations
Basic include that each animal must be in satisfactory physical condition, good health up to date on vaccinations, coggins, deworming and hoof care. Ground manners taught in advance help on riding training, to optimize your money and best interest for success highly recommended or we can take from the ground up but this is can delay riding training.
---
Aso, I am looking for a protoge student who would be interested in part time work, a few hours a day, in exchange for training lessons, riding lessons, farm management instructions, breeding instructions, foal and young horse handling, up to breaking and starting, preparation and conditioning for shows and equine nutrition and general horse husbandry and maintenance.This instruction would include hands on every day, involving some labor, and horse handling daily, schedule negotiable(no pay on this, you are getting free instructions in exchange for light farm work). Must be mature and dependable to qualify and must have some previous experience, have your own vehicle, and be local to travel here. Possibility to trade partial labor for purchases, or breeding to our stallion.
WE are a limited board facility allowing for some training horses, no boarders only at this time, No alcohol or drugs will be allowed for any reason on our property. Call for details.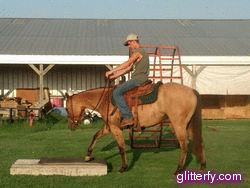 CONTACT INFORMATION
If you are interested in training please email or call. We will set you up for next available opening.
Board/training payments are due on time. All paying horses will get full attention and training as promised. All paying horses will be first priority over non paying. Past 60 days, a boarding/training lien can be taken out on your horse to recover losses, meaning I can sale said animal for the amount due to me if I so choose to. Timely payments are expected, only a written agreement can their be any exceptions. I have expenses and need to make payments as well, based on my income of boarders, that should be paid on the labor and housing on behalf of your animal. I am out feed expenses and work labor cost when payments are not made. Interest and late fees apply for late payments, as well as 15% commission if said animal is put up for sale. Any money owed to me will be taken and the rest if any remains will be refunded to you.
~~~~~~~~~~~~~~~~~~~~~~~~~~~
..
Farm trained
Training of our horses starts with handling from birth on. Our colts are haltered and handled regular and thus easy to train later, due to they are accustomed to humans and accepting of further training. They are handling with firmness and consistency, so they develope a trusting and respectful relationship. See Larry below with his kids, and how a filly we raised has taken to them, and riding first week of riding and first time to have kids around and on her also. WE have had nothing but compliments on how how easy our horses are to work with from outside trainers, due to the prelimary ground work and regular handling to instill trust and good behavior that we do with our horses here. This cannot be bought and hard to instill later. I give Larry credit for all his hard work leading up to this photo also, thank you Larry!!! This was not planned but spontaneous and a true sign that everything is working well in all areas from both of our input up to this point.