Quarter horse mares 2
Quarter mares page 2
On this page you will find more of our mares hand picked for breeding on our farm. IT is always our goal foremost to buy and breed the best and nothing less. Quality, temperament, breeding, correctness and color is the icing on the cake.
Smart High Brow Gal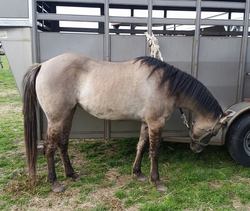 Smart High Brow Gal aka Miss Kitty
(Smart Like High Brow X Peppinhickory Josie)
2010 AQHA Grulla mare
Miss Kitty comes from a family of well known quarter horse Hall of fame and NCHA money earners, Stallion siring the earners of over $4,000,000, sire of earners of over $41.2 million, #2 ALL-TIME Leading Sire, World Champions, Reserve world Champsion, Triple Crown winner(cutting), Leading sires. Smart Little Lena, High Brow Hickory and Peppy San Badger on her papers. Right off the papers Sire Of Multiple NCHA Hall Of Fame, An Equi-Stat All-Time Leading Cutting Sire, A Leading Sire and Leading Maternal Grandsire NCHA Money Earners, NCHA Hall of Fame, two-time National Cutting Horse Association (NCHA) Open World Champion, AQHA World Cutting Championship. Too much to name.
We are very happy to have aquired Miss Kitty for our farm. She is highly sought after by way of pedigree, and quality. Her color is just the icing on the cake. WE look forward to many years with her at our farm. She is broke to ride and we may give her a brush up next year. Right now we are working with her to gain her trust and confidence. We are also working her weight gain issue and hope to have better photos of her later.
WE intend to use her in our breeding program.
WE have done some rehab with her, but she has a crack in her foot that has causes some issues. So we are working on growing that off and this may take a year.
TESTED 5 PANEL NEGATIVE , HOMOZYGOUS BLACK AND DUN GENE!!! She will always have a grulla foal no matter who she is bred to, other than a gray stallion.
She is bred to Rawhide Dunnit for 2019!! guaranteed grulla foal
NOT FOR SALE
---
---
Mizztified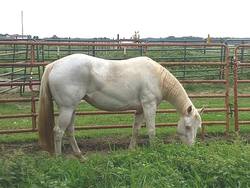 Mizztiefied is a rare and unusual jewel, she is actually a grulla double dilute. She will only produce dilutes and dun gene 50% of the time unless she is bred to a dun horse, then the chances would be higher. She is a dream come true and has produced outstanding foals everytime!
Her pedigree includes Hollywood Dun It: 88% FOUNDATION
NRHA LTE: $65,808.84
The 2nd All Time Leading Sire in National Reining Horse history.
Hollywood Dun It has broken every National Reining Horse Association siring record.
When the 2004 NRHA Futurity came to a close, his foals carried him past the $4 Million siring pinnacle.
Offspring Record:
Registered Foals: 1,178
Point Earners: 482
Points Earned: 10,638
Total Offspring Earnings: $5,438,583.80
Deceased 3/30/2005
tested 5-panel NEG, Mr Dual Pep: Hall of Fame Offspring:, Sister CD (NCHA)
World Champion Offspring
Superior Performance Offspring
ROM Performance Offspring
NRHA Money-earners
NCHA Money-earners
NRCHA Money-earners
Halter Point Earners,
Mr Dual Pep: LTE=$52,040
NCHA $43,784.91
NCHA COA
NRCHA Millon Dollar Sire #6 All-Time
NCHA Million Dollar Sire #105 All-Time
NRHA 400,000 Sire #55 All-Time
#14 All-Time Working Cow Horse Sire
. Mister Dual Pep foals have earned $1,172,739.33 in NRCHA competition. FULL BROTHER TO DUAL PEP.
HYPP n/n, HERDA n/n, GBED n/n, PSSM1 n/n, MH n/n
Peppy san Badger:
AQHA & NCHA Hall of Fame (2008)
NCHA $172,711+
#4-leading cutting horse sire of all time. Sired earners of over $28,000,000.00+
3 Times NCHA World Champion Cutting
Reserve World Champion
1980 NCHA (Open)
Bronze Silver Gold Platinum ROM Perf
1978 Open Perf Pt Earner to name a few!!
Tuf N Busy: AQHA Show H&P-250+
Superiors In: Reining, Heading & Heeling
ROM Performance
AQHA Points in: Halter, Reining, Working cow horse, Calf roping, Heading & Heeling
NRHA money earner , owned by the Hilldale farm
Oh my she is so amazing and her pedigree speaks for itself!!!!
NOT FOR SALE!!
---
---
MQ Miss Champagne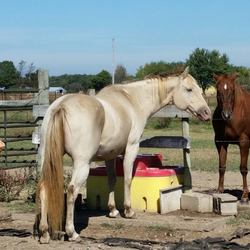 MQ MISS CHAMPAGNE
2005 SABLE CHAMPAGNE AQHA
Aa, Ee, Chch
14.2 H. solid, big body mare. She has one bay and red gene one champagne gene. She is sweet and friendly and perfect conformation, great legs and hoofs. She come with beautiful face and just a great mare all around! The color is just the icing on the cake. She has had very nice foals and we look forward to many years with her. She is taking a break after having 5 foals in a row. We will breed her in 2016 for 2017 foal.
top side granddaughter to MY Skip Vanzi : and great grand daughter as well. line bred which goes to Skipper W
Gold Dun Champagne/Blaze/L.Fore & R.Hind Socks/ reg as palomino)
AQHA Show H-52/P-0
World Champion Halter
Superior Halter
ROM Halter
Top 10 AQHA World Show
PHBA World Champion
Bottom side :
Double Top Moon:
AQHA Race SI-100, AAAT, SW, ROM Race, 40-15-9-5, $40,636.
AQHA HALL of Fame
Sired 1829 foals, 1340 starters, 795 winners, 4 World Champions, 74 Stakes Winners, 77 Stakes Placers, 804 Racing ROM, 62 show ring pt. earners, 19 ROM Arena.

Three bars: 8-12-3-1, $20,840.
Won: Speed Handicap
The leading sire of racing Quarter Horses for many years. American Quarter Horse Hall of Fame 1989. Died April 6, 1968.
Three Bars was the sire of 29 AQHA Champions, 4 AQHA Supreme Champions, 317 Racing Register of Merit earners, and his foals earned more than $3 million.
Combination of halter and performance lines for a super nice mare with color package.
not for sale bred to Titan for 2019
$2500.00
---
---
---