Chambers Springs Stables Farm
Favorite Links
Enjoy!
Very informative articles on horse care, medical, reproductive, digestive, lameness, disease. Covers most information in detail.
~~~~~~~~~~~~~~~~~~
Univeristy of lllinois fitness and conditioning your horse.
~~~~~~~~~~~~~~~~~~
National organization for the promotion of health and well being of horses. Has up to date health articles written by veterinarians.
The latest news and in-depth, veterinarian-approved articles on equine health care from The Horse magazine. NEW -- All registered users for TheHorse.com may now read ALL ARTICLES FREE! As a not-for-profit company, we realize that the archive of veterinary-approved information contained in the more than 7,300 articles on TheHorse.com is a useful resource to ALL horse owners and we have an obligation to share that information for the benefit of horses world-wide.
Official Paint horse web site, registry, membership and more.
Official site for the American Quarter Horse.
Color and disease testing as well as color calculator.
free pedigree research with millions of horses listed. A place you can list your own horse as well, for registered horses.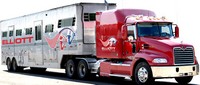 Carries most everything for livestock, horses, pets and reasonable prices.
COLOR CALCULATOR
COLOR testing, PAINT PATTERN TESTS AND DNA TEST SITE.....
UC Davis explanation OF COLORS AND PATTERNS
OTHER TEST, lethal white, Herda, HYPP, GBED, JEB AND MORE ..
great site, shows pictures of the plants and also gives symptoms.
Check out..


..these Paint Horse sites!