SALE BARN
Photo Gallery
paypal.me/cssfarm
A big thank you for all my past, current and future customers! WE are very pleased with all our horses, and ones we have sold and are selling. WE take a great deal of pride in them on the outcome of each and every one. We enjoy following them, in their new homes and the success of each and every customer. The reason for doing business is our customers success stories and staying in touch! We look forward to many years of new friends and old and many more great horses to come! Where quality is our goal, not quantity!
Secure payment by charge card so easy. Ad 4 % of your total to cover fee when used. WE generate your invoice/bill to you by email. Easy 3 clicks for you to pay and complete transaction takes minutes. For deposit only 2 weeks before departure, all final payments cash or directwire. A non refundable deposit from you will hold a horse. Without a deposit we cannot for any reason due to loss of sales when a horse is held and a person changes their mind.
We have sold horses to Oregon, California, New Mexico, Arizona, Colorado, Missouri, Oklahoma, Texas, Arkansas, Kansas, Tennessee, Ohio, Michigan, Massachusetts, Pennsylvania, North Carolina, Georgia, Florida, West Virginia, Iowa, Illinois, Mexico, Canada and Czech Republic. WE continue to make new friends and aquaintances year over year, with the sales of horses and look forward to many years of good conversations from the new friends we make with them. We love to hear from anyone and seeing photos of horses we have sold are greatly appreciated.
---
All of our horses are, dewormed regular, have hoof care as needed, and will sale with coggins and health cert for travel. We provide shelter from inclement weather, and stall as needed. WE feed and hay on a regular basis and horses are always in good condition as pictured. We take great pride in our breeding and training program and feeding them is part of it. WE custom mix feed and each horse has a custom diet according to its needs. We declare any issues and answer questions with all information required and all that we are aware of. Honesty is our policy. We want to match up each horse to the right person. So that each buyer will be fully satisfied and the horse have a good home.
We offer multiple purchases and show home discounts. Sale mares can be bred in the spring $400.00 additional fee with contract on a sale horse. Guaranteed live foal with contract. Can be seen on the stallion info page. We can do 30 days of riding for $300 plus shoes extra on sale horses and minimal board. Special does not include coggins, health cert or free board. Registration papers or breeders cert. will convey. We will deliver for a small fee locally within 25 miles..

foals will be priced to sale after foaling, best deal after weaning price will go up with handling and time. Check our foals page all the foals are born.
......
you buy a horse/colt or put a deposit and change your mind, and back out there is no refund. WE will apply a portion of the money to another horse/colt in the future. WE deduct any expenses that occur upon backing out of a sale, and 25% fee for relisting and loss of sales that may occur.
....
Thanks for looking! Visits welcome by appointment.
Tru Gaybar Streke
2016 APHA colt
All Around champion filled pedigree, Breeding, guaranteed for tobiano . Great potential in Ranch Versatility, Ranch Work, Reined Cow, Reining, Roping, Working Cow. World class breeding, huge potential for most event at any level, at an affordable price! WEll bred paint colt ready to start into someones training program , nominated for NRHA. Has been handled well with good ground manners. Saddle training started and will be ready for riding when he fits into your timeline. Gentle and easy to handle! 5 panel neg by parentage homozygous tobiano Ee Aa ToTo
Has had basic 101 ground handling, has had saddle and bridle training, great manners, gentle and sweet natured. Loves attention.
pedigree: paternal Grandfather: Gay Bar Drummer 7 ROMs 6 Superiors 3 World Championship 2005 APHA #1 Point Earner - one rider/one horse 2007 Greatest American Paint Horseman Champion 2014 was his fourth Senior Working Cow Horse World Championship in the last five years
Maternal Grandfather: QT Poco streke NRHA BRONZE TROPHY APHA WORLD CHAMPIONSHIP RESERVE REINING STAKES WINNER OF THE WORLD WIDE PAINT HORSE CONGRESS HIGH POINT OCAP HORSE (ALL THRU NRHA COMPETITION) RESERVE NRHA LO AT THE ALL AMERICAN QUARTER HORSE CONGRESS (AGAINST 47 AQHA REINERS) TWICE NRHA OPEN CHAMPION & TWICE NRHA LO CHAMPION EARNED HIS ROM IN REINING (18 pts) AT 2 SHOWS HIGH POINT MIDWEST OPEN & LIMITED OPEN REINING HORSE
others on his papers are A Tru Rolex , Diamond Chex, one off Shots Flying Spark!!
$4000.00 or reasonable offer!
---
qt citas royal reba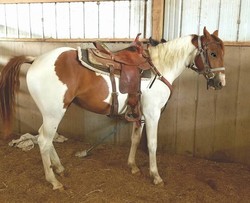 (QTs cita Spots X Qts Royal Carol)
5/19/16
Sorrel tobiano filly
This is a really nice filly linebred Qt Poco Streke
QT poco streke stats
NRHA BRONZE TROPHY
APHA WORLD CHAMPIONSHIP RESERVE REINING STAKES
WINNER OF THE WORLD WIDE PAINT HORSE CONGRESS
HIGH POINT OCAP HORSE (ALL THRU NRHA COMPETITION)
RESERVE NRHA LO AT THE ALL AMERICAN QUARTER HORSE CONGRESS (AGAINST 47 AQHA REINERS)
TWICE NRHA OPEN CHAMPION & TWICE NRHA LO CHAMPION
EARNED HIS ROM IN REINING (18 pts) AT 2 SHOWS
HIGH POINT MIDWEST OPEN & LIMITED OPEN REINING HORSE
Her sire Qts Cita Spots: OPEN REINING, 1 OPEN WCH, 1 ROM, 1 SUPERIOR. , NRHA MONEY EARNER, he was also #2 in Junior reining Honor roll, and #3 in Open 2007 . Multiple circuit championis a performer and continues to be shown in Texas and her dam is a producer as well, is a dam of point earning exported Canadian stallion who has sired money earners and points earned in multiple events.
This filly is energetic! She has all the moves and desire to do speed events, such as barrels , polls or mounted shooting. She sure cuts a rug and turns on a dime . She is sensible and willing, as well as very brave and friendly. I expect she will be a lot of fun to traIN and her breeding speaks for itself. She has performers all over her papers, reining, breakaway roping and working cowhorse to name a few. Just off her papers.
She is straight and correct, with no issues or vices.
Reba current on vaccinations and deworming, has trailered and handled regular. She has coggins and health cert will be provided.
$2000.00 or best reasonable offer. Has had basic ground work and saddle training.
---
---
---
Tyes Smokin Pistol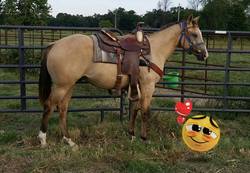 Super nice AQHA 2014 dunskin stud colt.

Ground training going very well. Great foundation pedigree. Color package.dun and buckskin. 4 stockings and nice blaze top off with 2 Gorgeous blues eyes. We will be saddle training soon!! 14.2 hands already, solid build, straight and we'll muscled! Great legs and hooves. Pretty face! He has a friendly and willing personality. He appears to have the splash white gene. untested.

tested Dd, carries one dun gene, and Ee, one red gene hidden. Crcr one cream gene.. thus he is dun buckskin and splash
one bay gene since his sire is grullo dam is buckskin. I would keep him myself if he was a filly.
I can't have another stud at this point . Some lucky person will get this nice colt at a great price!!
Started saddle training doing very well!!

$2500.00 S old!! going to a great home he will be used and shown in reined cowhorse , ranch horse!! whoop whoop, he will be a star!!
---
---
css smart lil selena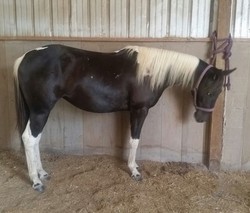 (Rips Prince of Tides X Smart LIttle Cita)
Super nice filly, great pedigree and color.
2014 APHA black tobiano

SIRE SIDE: line bred QT Poco Streke,
DAM SIDE: Leo San Cita, Docs Gold Edition! Extended Smart Little Lena, Adios Amigo, Doc Doll, Qton Eagle, super nice filly.
Finally I get to keep one, these are hard to come by!! I have had to offer her for sale due to life changes.
no fault of her own. She is a once in a lifetime hores, well bred, all the whistles and bells.She can be shown in performance working cattle cutting, team penning, working cowhorse, then breed later. She is an energizer bunny she will give you her all and more. Prepotent pedigree filled with champions, and all the guarantees you would want. Looking for a good home, show home preferred but good home a must.
TEST CAME BACK DOUBLE HOMOZYGOUS!!!! 5 PANEL neg!
SALE PENDING!! THANK YOU TRACY B . FOR HAVING FAITH IN SELENA! I LOOK FORWARD TO SEEING YOU AND HER DEVELOPE UNDER YOUR EXPERT TUTALAGE..THIS IS VERY EXCITING!!!
---
---