SALE BARN
Photo Gallery

A big thank you for all my past, current and future customers! WE are very pleased with all our horses, and ones we have sold and are selling. WE take a great deal of pride in them on the outcome of each and every one. We enjoy following them, in their new homes and the success of each and every customer. The reason for doing business is our customers success stories and staying in touch! We look forward to many years of new friends and old and many more great horses to come! Where quality is our goal, not quantity!
---
At this time all the sale horses are sold, but check our 2023 foals page for available show prospects. Check back often or private message, email, text to ask directly if you are interested in a certain horse as we may at any given moment have something available to your needs. Facebook- CSS Paints and Qhs, Shelly Pifer or pifersd@aol.com or 479-427-0318. thank you!!!!
Payment is by a personal check or cashier check for deposit only 2 weeks before departure, or contract with monthly payments. All final payments cash or directwire by Zelle, venmo, paypal freind to a freind only . A 30% non refundable deposit from you will hold a horse. Without a deposit we cannot for any reason due to loss of sales when a horse is held and a person changes their mind.
We have sold horses to Oregon, California, New Mexico, Arizona, Colorado, Missouri, Oklahoma, Texas, Arkansas, Kansas, Tennessee, Indiana, kentucky, Wisconsin, Ohio, Main, Michigan, Massachusetts, Pennsylvania, North Carolina, Georgia, Florida, Virginia, West Virginia, Washington, Iowa, Illinois, Mexico, Canada and Czech Republic. WE continue to make new friends and aquaintances year over year, with the sales of horses and look forward to many years of good conversations from the new friends we make with them. We love to hear from anyone and seeing photos of horses we have sold are greatly appreciated.
---
All of our horses are, dewormed regular, have hoof care as needed, and will sale with coggins and health cert for travel, depending on the deal, by who to be paid for will be determined. We provide shelter from inclement weather, and stall as needed. WE feed and hay on a regular basis and horses are always in good condition as pictured. We take great pride in our breeding and training program and feeding them is part of it. WE custom mix feed and each horse has a custom diet according to its needs. We declare any issues and answer questions with all information required and all that we are aware of. Honesty is our policy. We want to match up each horse to the right person. So that each buyer will be fully satisfied and the horse have a good home.
We offer multiple purchases and show home discounts. Sale mares can be bred in the spring an additional fee with contract on a sale horse. Guaranteed live foal with contract. Can be seen on the stallion info page. We can do 30 days of riding for $800 plus shoes extra on sale horses and includes board to local highly recommmended trainers, depending on your needs we can hook you up(prices may change depending on the trainers fees). Any deep discounted sale special does not include coggins, health cert or free board. Registration papers or breeders cert. will convey. We will deliver for a small fee locally within 25 miles..

Foals will be priced to sale after foaling. Best deal before weaning with a contract and payoutplan, as price will go up with handling and time. After weaning prices go up as foals are privately stalled and handled regular . Check our foals page all the foals are born.
......
If

you buy a horse/colt or put a deposit and change your mind, and back out there is no refund. WE will apply a portion of the money to another horse/colt in the future under certain circumstances. WE deduct any expenses that occur upon backing out of a sale, and 25% fee for relisting and loss of sales that may occur.
....
Thanks for looking! Visits welcome by appointment.
css smokin shinin star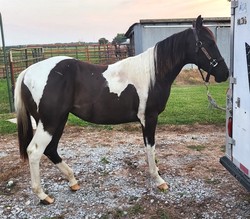 pedigree

(Smokn

Silver bullet X shining Tiviobar) Ee, aa, Crcr, Toto

5 panel and IMM/ Myhm neg by parentage breeding . We call her Shania, we think she is bootylicious. Well papered filly, Rawhide silvr bullet, Dunit Rawhide, Dunnit Ok and Shining spark on her papers to name a few others just of Hollywood dunnit, Mister Dual Pep, Zan parr Bar, Bar Money, Tivio Bar. She is solid bred and one of a kind filly, will clean up in most any event. She is 7/8s qh by breeding. She will make a great show horse, at any level, ranch versatility, sorting, reined cow, roping, so much potential. location . She should mature to 14.2 to 14.3 hands.

Ask about proven show home discount.

$6500.00
---
---
mizz Rawhide dunit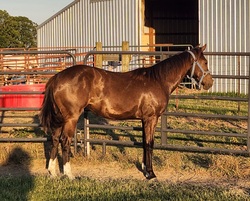 Trixie
(Rawhide Dunnit X Css Paloduro Dunit)
Smokey Black
Ee, aa, Crcr, splash to be tested.
she should mature to 14 - 14.2 hands.
SOME AWESOME BLOODLINES!!
6 panel neg. by parentage testing.
Amazing filly pedigree includes many greats. Rawhide Silvr Bullet, Paloduro Cat, Dunit Ok, Mr Dual pep, Tuff and busy! So much going on in this fillys pedigree. She should do most any reining, sorting, boxing , ranch event! NOt the average filly!!! She is not tested but appears to have a splash gene, testing maybe forthcoming.
She can be bought. For a serious buyer contact me. email or phone.
$4000.00 sold!!!! show home!
---
---
---
css rawhide slidn hot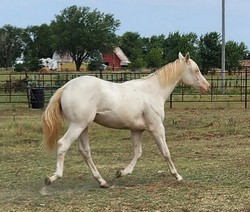 pedigree (Smokn Silver bullet X shining Tiviobar) 2021 smokey creme apha colt Ee, aa, CrCr , SW20 mature 15 to 15.1 h. approx Rowdy is black double dilute!!!! This is one super nice colt, we hate to loose, but i have his mother, father and sister. HE is high quality and will make a super producer, with so many guarantees built into him. With many years ahead of him, he has all the guarantees of color and pedigree to back him. Conformation, quality and trainability. He is gentle by nature, and has a great start, very easy to handle, ties, loads, trailers, has had hoof trims. Just young and need to be taken on for further training. thanks for looking! Priced to sale, reduced already! dont miss out.
$4800.00 SOLD TO A GREAT SHOW HOME!
---
---
css Smokin Silverado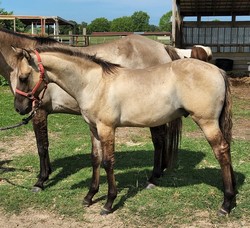 Sterling
css Smokin Silverado
pedigree Hz black, EE, aa, Dndn
5 panel neg and imm neg. by parentage testing This colt is available, and if you are intersted in a top show prosepct in reining, working cowhorse, boxing, sorting, ranch horse classes, then stop here! He is hz for black as well, and will mature to 14.2 to 14.3 hands. this colt has several siblings being shown or ridden in events. roping and cutting. A few others are reaching age of starting and we are following them also, as the owner plans to train and show them also. $4500.00 SOLD show home!
---
---
css Boonlite Whiskey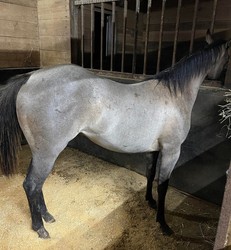 Whisky
(Once upon a blueboon x Smart High Brow Gal)
GRULLA ROAN!!!
SOME AWESOME BLOODLINES!!
6 panel neg. by parentage testing. pedigree includes, Boonlight Dancer, Zan parr Bar, Smart like Lena, Peppy San badger. Extended goes to Peptoboonsmal, Smart little lena twice, double Gold Seeker bars, High brow hickory! so many greats!! This colt has brothers and sisters being used in performance, cutting, roping and sorting. I amlooking forward to seeing him mature and have him trained in his long 2 year old year.!!!
$6000.00 sold to a great show home! roping down the line! gone to kentucky.
---
---
Hickory Chex n cash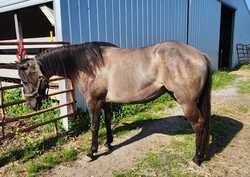 Lilly
(HIckory Dun Classic X Mosu Nu Dixie chex)
pedigree
03/27/21 grulla filly
Ee, aa, Dndn, 5 panel neg by parentage testing and IMM neg.
should mature to 15. hands
SOME AWESOME BLOODLINES!!
HIgh brow HIckory, Docs prescription, Nu Chex to Cash, The last son by Three bars. Powerful papers!
6 panel neg. by parentage testing.
This filly is something we have long awaited!!! WE wanted to keep her for our mare band! However we have decided to list her as she is going to be really tall for our criteria. Nothing wrong with here, but we wanted all our mares to be under 15 hands. Her pedigree is an amazing combination of many performance horses that have formed the basis to many of our current disciplines, and current Champions. This filly would make a super rope or reiner show horse. Our loss is your gain! she was not to be sold until she kept growing....sad day.
$6500.00 SOLD TO A GREAT SHOW HOME!
---
---
---