SALE BARN
Photo Gallery
paypal.me/cssfarm
A big thank you for all my past, current and future customers! WE are very pleased with all our horses, and ones we have sold and are selling. WE take a great deal of pride in them on the outcome of each and every one. We enjoy following them, in their new homes and the success of each and every customer. The reason for doing business is our customers success stories and staying in touch! We look forward to many years of new friends and old and many more great horses to come! Where quality is our goal, not quantity!
Secure payment by charge card so easy. Ad 4 % of your total to cover fee when used. WE generate your invoice/bill to you by email. Easy 3 clicks for you to pay and complete transaction takes minutes. For deposit only 2 weeks before departure, all final payments cash or directwire. A non refundable deposit from you will hold a horse. Without a deposit we cannot for any reason due to loss of sales when a horse is held and a person changes their mind.
We have sold horses to Oregon, California, New Mexico, Arizona, Colorado, Missouri, Oklahoma, Texas, Arkansas, Kansas, Tennessee, Ohio, Michigan, Massachusetts, Pennsylvania, North Carolina, Georgia, Florida, West Virginia, Iowa, Illinois, Mexico, Canada and Czech Republic. WE continue to make new friends and aquaintances year over year, with the sales of horses and look forward to many years of good conversations from the new friends we make with them. We love to hear from anyone and seeing photos of horses we have sold are greatly appreciated.
---
All of our horses are, dewormed regular, have hoof care as needed, and will sale with coggins and health cert for travel. We provide shelter from inclement weather, and stall as needed. WE feed and hay on a regular basis and horses are always in good condition as pictured. We take great pride in our breeding and training program and feeding them is part of it. WE custom mix feed and each horse has a custom diet according to its needs. We declare any issues and answer questions with all information required and all that we are aware of. Honesty is our policy. We want to match up each horse to the right person. So that each buyer will be fully satisfied and the horse have a good home.
We offer multiple purchases and show home discounts. Sale mares can be bred in the spring $400.00 additional fee with contract on a sale horse. Guaranteed live foal with contract. Can be seen on the stallion info page. We can do 30 days of riding for $300 plus shoes extra on sale horses and minimal board. Special does not include coggins, health cert or free board. Registration papers or breeders cert. will convey. We will deliver for a small fee locally within 25 miles..

foals will be priced to sale after foaling, best deal after weaning price will go up with handling and time. Check our foals page all the foals are born.
......
you buy a horse/colt or put a deposit and change your mind, and back out there is no refund. WE will apply a portion of the money to another horse/colt in the future. WE deduct any expenses that occur upon backing out of a sale, and 25% fee for relisting and loss of sales that may occur.
....
Thanks for looking! Visits welcome by appointment.
Tru Gaybar Streke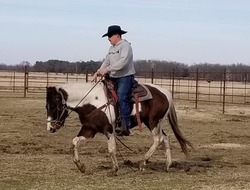 2016 APHA colt
6 panel neg. HZ tobi, Ee, Aa
All Around champion filled pedigree, Breeding, guaranteed for tobiano . Great potential in Ranch Versatility, Ranch Work, Reined Cow, Reining, Roping, Working Cow. World class breeding, huge potential for most event at any level, at an affordable price! WEll bred paint colt ready to start into someones training program , nominated for NRHA. Has been handled well with good ground manners. Saddle training started and will be ready for riding when he fits into your timeline. Gentle and easy to handle! 5 panel neg by parentage homozygous tobiano Ee Aa ToTo
Has had basic 101 ground handling, has had saddle and bridle training, great manners, gentle and sweet natured. Loves attention.
pedigree: paternal Grandfather: Gay Bar Drummer :6 Superiors: Working Cow Horse, Calf Roping, Heading, Healing, Ranch Cutting, and Ranch Riding, World Championships, 2005 APHA #1 Point Earner, 2007 Greatest American Paint Horseman Champion, 2014 was his fourth Senior Working Cow Horse World Championship in the last five years. He is also a 3-Time World Champion Sire. Drummer's 2018 success includes a world championship in Senior Steer Stopping, reserve world championships in Senior Working Cow Horse and Senior Heeling, as well as Top 10 finishes in all other events—all of which tallied up to the top spot on the standings for multiple major awards. On top of plenty of ribbons and buckles Drummer heads home with the Oscar Crigler Cattle Award, High-Point Western Horse and All-Around Open Open Horse awards.
video to be seen from the world.
Maternal Grandfather: QT Poco streke NRHA BRONZE TROPHY APHA WORLD CHAMPIONSHIP RESERVE REINING STAKES WINNER OF THE WORLD WIDE PAINT HORSE CONGRESS HIGH POINT OCAP HORSE (ALL THRU NRHA COMPETITION) RESERVE NRHA LO AT THE ALL AMERICAN QUARTER HORSE CONGRESS (AGAINST 47 AQHA REINERS) TWICE NRHA OPEN CHAMPION & TWICE NRHA LO CHAMPION EARNED HIS ROM IN REINING (18 pts) AT 2 SHOWS HIGH POINT MIDWEST OPEN & LIMITED OPEN REINING HORSE
others on his papers are A Tru Rolex , Diamond Chex, one off Shots Flying Spark!!
$4000.00 or reasonable offer!
sold to a great show home!!!
---
CSS Hollywoodchablis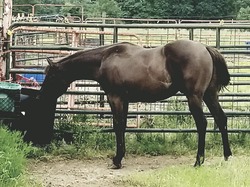 Smokin Silvr Bullet aka Smokey

2017 aqha smokey black colt
homozygous black w/ creme gene
should mature 14.2 hands
friendly and well mannered, ready to start this fall and show later, use for breeding after his show carreer.

check him out, his pedigree is amazing, and he has the guarantees you want as both his sire and dam are 5 panel neg.
sire : Rawhides Slvr Bullet
AQHA Show H-27.5/P-351
ROM Halter-Open
ROM Performance-Open
Superior Reining-Open
#1 ALL-TIME AQHA OPEN REINING POINT EARNER
AQHA Champion-Open
LTE $10,094

3x AQHA High Point Reining Top Ten
2x AQHA High Point Junior Reining Top 10
3x AQHA High Point Senior Reining Top Ten
AQHA High Point Halter Stallion Top Ten
14 NRHA Open Show Wins
2x SDQHA High Point Open Reining Champion
5x NDQHA High Point Open Reining Champion
16 AQHA Open All Around Awards
Black Hills Stock Show Jr Reining Champion
Winner of multiple NRHA bronze trophies
grand son of HOllywood Dunit!!!

Dam : Mizztified:
Dam is by Dun it OK grandson of HOllywood dun it. Also on his papers DEFINITLY A DUNIT, Mister Dual Pep,
extended Peppy san Badger and Tuf N busy.

ONly for sale due to changes in our program! we own his mother and thus the only reason he is for sale. I had wanted to keep him for our next farm stallion to ad to our program, but we are downsizing your lucky day!!!!!!
he is sound and healthy, have been handled and stalled since a foal. Has been separated in his own private pen and is ready for further training to get him ready for riding this fall to winter.
a reasonable cash offer would be considered before I change my mind!!! He has had basics, light lunging to learn word commands, and wash rack, leads, trailers, ties no vices or issues! Sound and healthy in everyway.
he is a diamond in the rough!
$3500.00 or reasonable cash offer
---
---
Hollywood Lilhickory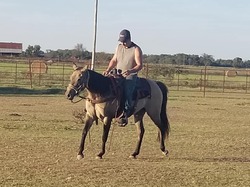 Hollywood Lilhickory AKA Paris
( Jessys Hollywood Doc X Smart high brow gal)
Ee, Aa, CrCr, Dndn
neg. hrd, mh, hypp, pssm1

she will mature close to 15.1 handsaqha buckskin dun filly

Sweet mare, loves to work, very athletic. We have gotten her back in hopes of training and riding her before breeding.

Her pedigree is exactly what I have been working towards in type, style, agility, trainability, straight and correct as well as color combination!!

Her pedigree boast such greats as Hollywood dunnit, Smart Lil lena, Highbrow hickory, Peppy san badger.
she his in training now, and doing well,
has been easy to train, but she is not lazy. needs further training to finish her. She is very agile and willing to please. She can get around but she also will stand for saddling, mounting etc, she is stopping, backing and started neck reining well and learning other riding training as we go.

she is very well bred, and would make a great reining, team penning, working cowhorse, roping with training. She will mature and widen up with age, she is only 2.

a reduced price for breeding can be bought with her purchase for 2019 if wanted to our grulla stallion. see our website for further details. thanks for looking. After she is bred we will raise her price to $3200.00. We will be breeding her to Hickory Dun Classic, farm owned grulla champagne stallion.
Shipping Notes
all exams welcome and shipping would be at buyers expense, we will provide coggins and health cert for travel.
$2800.00 SOLD!!! She has a new home where she is loved greatly~~~
---
---
css color me shania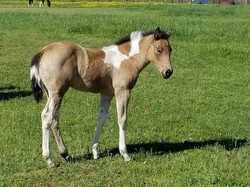 (Jessys HOllywood Doc X Aniemotion D)
EE, AA, Crcr, Toto
APHA Buckskin tobiano Filly
This is a minimal tobiano filly with many champions in her pedigree. With names such as HOllywood Dun It, Docs Prescription, Smart Chic Olena, Color Me Smart, Highbrow Hickory and Doc Quixote. I am pleased as can be.
I hope to raise her and start her riding, before adding her to my broodmare band! Or she can be bought by an aspiring trainer! Negative for all dominant disorders in 5 panel by parentage testing.
thanks for looking!
performance prospect deluxe!!!! to a serious buyer looking to ad some ablility to their training program. Best deal now before I change my mind!!
guaranteed negative for all dominant 5 panel disorders.
AA, EE, Crcr, Toto!!! $2000.00 . SOLD!!!
---
---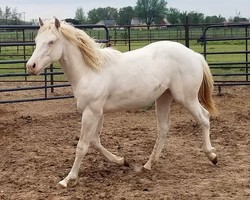 CSS qts Risky Affair
aka Cody
(Pepsi Color Master X QT royal Carol)

2017 apha colt

5 panel neg by parentage
Ee, AA, CrCr, Dndn, Toto (tested)
perlino, dun , double dilute , tobiano pattern.
current pictures last in may .
will mature to 15 -15.1 hands
great opportunity to get a really nice colt for showing then breeding later, He is national caliber prospect....
He can go on the be the horse of your dreams....This colt would make a great roping, team penning, sorting, working cowhorse! He is sweet and easy to handle. Solid, good bone , muscle, straight and correct. No issues or vices. 100% in everyway, color is icing on the cake!! he will produce, buckskins, dunskins, dunalino, palomino and tobianos!!!! guaranteed.

pedigree has such greats:
RR Riskymastrpeice, Pepsi Poco, QTs Paw prints, Qt Poco Streke, Doc Quixote to name a few.

He is availalble for a very good price.
$3500.00 SOLD!!!!!!!!!!!!!!!!
---
---