2021 foal review
2021 foal gallery below
We have some amazing foals coming! WE will post them as soon as they are born. And if available, with price. Thanks for looking. Stay tuned!
WE handle our foals, and they are gentle by departure, they are haltered and handled. However they are not finished or ready to show. They will be easy to work with and move on to more training with the new buyers. Our prices are reasonable, and we take great pride in the quality, pedigree, conformation as well as temperment on each foal. This is no accident, but years of planning and researching to produce a high quality individual, that someone can use, show, ranch work, pleasure and some are ranch halter type. WE mainly use reining and cutting blood lines, and our mares and stallions are 5 panel tested. Takes the guessing out of testing, and searching for this. WE think color is just extra icing on the cake, not the foundation of our program. So if that is something you like stick around, you wont be dissapointed!
WE only breed AQHA AND APHA REGISTERED STOCK.
below is a neat picture, of some foals in 2017! They have sold to show homes!!!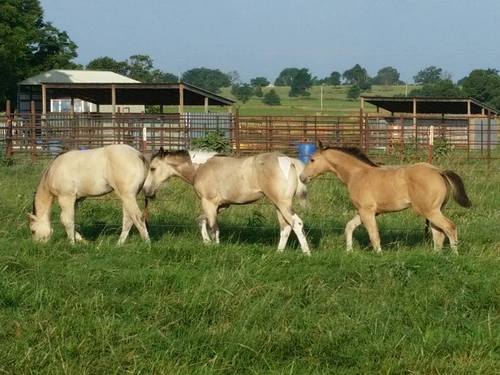 Chex- foaled 03/27 aqha grulla filly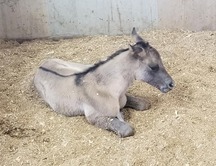 Lilly
(HIckory Dun Classic X Mosu Nu Dixie chex)
pedigree
03/27/21 grulla filly
Ee, aa, Dndn
should mature to 14.2 hands SOME AWESOME BLOODLINES!! HIgh brow HIckory, Docs prescription, Nu Chex to Cash, The last son by Three bars. Powerful papers!6 panel neg. by parentage testing.This filly is something we have long awaited!!! WE will be keeping her for our mare band! she will be trained before she is put in the band. Her pedigree is an amazing combination of many performance horses that have formed the basis to many of our current disciplines, and current Champions
. NOT FOR SALE
---
---
Listen to dreams- foaled 3/31 bay aqha filly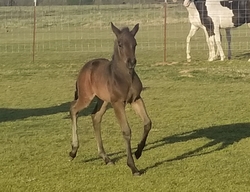 (Peptos Lucky day X Listen to dreams)
Super nice filly with amazing pedigree, Peptoboonsmal, South Texas Acre and many more. Sold at 3 days...gonna make a super nice performance mare in most any ranch or show performance event. Sold to an amazing family. Extended pedigree, he has some amazing blood lines.Top to bottom, Peppy san badger, Doc sug, Doc Olena, Hollywood dunnit, Bob Acre Doc, Docs Hickory, Docs Oak. that is a mouthfull of amazing horses. She gonna make an amazing broodmare when the time comes.
SOME AWESOME BLOODLINES!! 6 panel neg. by parentage testing.First foal by Peptos Lucky Day, we are very proud and love what he did. We plan on producing more over the next few years.
SOLD!!
---
---
Black Spark DR- foaled 04/03 black aqha filly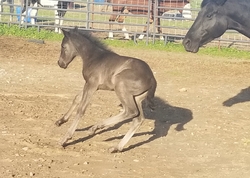 (Smokin Silvr Bullet X Black Spark Dr)
Sold!!!
Smart Highbrow gal -foaled 04/15 aqha colt- grullo roan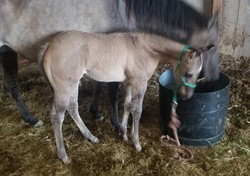 (Once upon a blueboon x Smart High Brow Gal)
GRULLA ROAN!!!
SOME AWESOME BLOODLINES!! 6 panel neg. by parentage testing. pedigree includes, Boonlight Dancer, Zan parr Bar, Smart like Lena, Peppy San badger. Extended goes to Peptoboonsmal, Smart little lena twice, double Gold Seeker bars, High brow hickory! so many greats!! This colt has brothers and sisters being used in performance, cutting, roping and sorting. I amlooking forward to seeing him mature and have him trained in his long 2 year old year.!!!
SOLD! SHOW HOME
---
---
Candy: foaled 05/20 Smokey aqha black filly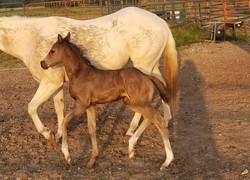 Zoe
(Rawhide Dunnit X Css Paloduro Dunit)
Smokey Black
Ee, aa, Crcr, splash to be tested.
she should mature to 14 - 14.2 hands.
Amazing filly pedigree includes many greats. Rawhide Silvr Bullet, Paloduro Cat, Dunit Ok, Mr Dual pep, Tuff and busy! So much going on in this fillys pedigree. She should do most any reining, sorting, boxing , ranch event! NOt the average filly!!! She is not tested but appears to have a splash gene, testing maybe forthcoming.
She can be bought. For a serious buyer contact me. email or phone.
$4000.00 Sold! Show home.
SOME AWESOME BLOODLINES!! 6 panel neg. by parentage testing.
---
---
Shining tivio Bar- foaled 06/01 APHA COLT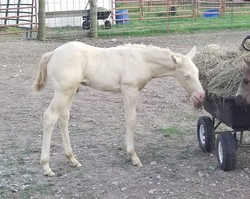 Rowdy
css rawhide slidn hot
(Smokin Silvr Bullet X Shining Tivo Bar)
smokey creme colt should mature to 14.2- 14.3 hands and 7/8's QH
Ee, aa, CrCr, tobiano uncertain at this time.
This amazing colt regardless if he is not tobiano has an amazing future. If he does not sale, I will keep him for breeding myself. If I had the money he would be shown! He has show potential in reining, sorting, boxing, ranch , Performance Halter, endless potential. His sire and dam are both thick well built horses and this colt will be stout at maturity. He is well muscled as he is growing now, and has a lot of shape and quality. His pedgree speak for itself. To name a few Rawhide Silvr bullet, Dunit OK, Shining Spark, one off HOllywood Dun it, Definitely Dunit, Mr Dual Pep, Genuine Doc, ZanParr Bar & Bar money! Solid pedigree, with the Golden cross of HOllywood dun it on Shining Spark.
this colt is available to a discerning buyer! contact by phone or email is welcome.
$4800.00
SOME AWESOME BLOODLINES!! 6 panel neg. by parentage testing.